Iyarpagai Nayanar
From Tamil Wiki
இந்தப் பக்கத்தை தமிழில் வாசிக்க: இயற்பகை நாயனார் ‎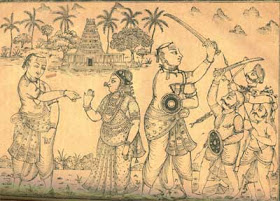 Iyarpagai Nayanar is one of the Saivite saints listed 63 Nayanmars.
Life
Iyarpagai Nayanar was born in a merchant family at Kaveripoompattinam in Chola kingdom. Iyarpagai Nayanar lived as a rich man. Iyarpagai Nayanar's virtue was to give charity to any Sivanadiyar (Shiva devotee) without saying no. This was described in Thiruthondai collection as "illaiye ennatha iyarpagaiku adiyen" (Iyarpagai is one who does not say no).
Siva's Play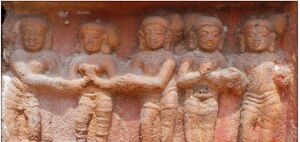 Lord Siva performed a play to show the world the greatness of Iyarpagai Nayanar. In the guise of Sivanadiyar, Lord Siva went to the house of Iyarpagai Nayanar as an Andhanar (definition per ancient Tamil: one who lives upholding moral values and ethics it can also mean a priest). Lord Siva told to Iyarpagai Nayanar who bowed down and welcomed him, that he wanted something and would explain it only if Iyarpagai Nayanar could agree to fulfill it Iyarpagai Nayanar promised to give whatever Sivanadiyar would ask for.
Sivanadiyar said that what he wanted was the wife of Iyarpagai Nayanar. Iyarpagai Nayanar who was not at all disturbed by this request, thanked him for asking for something that he had. Iyarpagai Nayanar expressed his position to his wife, who was disturbed by the ask of Andhanar. His wife agreed and moved next to the Andhanar. Sivanadiyar who was asked by Iyarpagai Nayanar, if he wanted anything else, requested him to accompany till edge of the village to protect him from Iyarpagai Nayanar's relatives and villagers. Accordingly, Iyarpagai Nayanar allowed his wife to go ahead with Sivanadiyar and followed him to protect with weapons.
On hearing this news, the villagers condemned the act and blocked the way with weapons. Everyone started fighting against Iyarpagai Nayanar who tried to explain. Iyarpagai Nayanar pulled out the sword and defeated all of them to protect the Sivanadiyar.
After reaching the place Tiruchaikkadu, Sivanadiyar told Iyarpagai Nayanar that he could leave them now. Iyarpagai Nayanar walked away accordingly. Towards Iyarpagai Nayanar who gave away his wife without any hesitation, Sivanadiyar shouted 'Sage Iyarpagai Nayanar, come here quickly.' Iyarpagai Nayanar who rushed to the call found only his wife standing in front of him. Lord Shiva, who came in the guise of an Andhanar disappeared and appeared there with Goddess Uma.
Poetries
Thiruthondar Thiruvanthathi explains this story in a poem as
seythavar vaendiya thiyaathung koduppach sivanthavanaayk

kaithavam paesinin kaathaliyaiththaru kenralumae

maithikazh kanniyai yeenthavanvaayntha perumpukazhvan

theythiya kaavirip poompaddinaththul iyarpagaiyae
Thiruthondar Puranam explains this story in a poem as
ezhilaarung kaavirippoom patti naththul

iyalvanigar iyarpagaiyaar iruvar theda

azhalaaya piraanthoorththa maraiyoa naagi

aayizhaiyaith tharavendi anaiya aiyan

kazhalaarap paninthumanaik karpin maenmaik

kaathaliyaik koduththamarsey karuththaal vantha

pizhaiyaarunj suttramelaan thuniththu meelap

pinjgnakanaar azhaiththarulap petru laarae
Guru Puja
Guru puja is celebrated every year for Iyarpagai Nayanar in Shiva temples on Uthiram star day in the month of Markazhi (Tamil calendar).
Reference
Nayanmar Varalaru - Tamil Development Board - Thiru. V. Kalyanasundaram - 2016
‎
---
✅Finalised Page