Iyanthira Deivam (Short Story)
From Tamil Wiki
இந்தப் பக்கத்தை தமிழில் வாசிக்க: இயந்திர தெய்வம் (சிறுகதை) ‎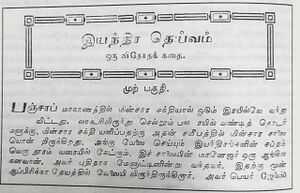 Iyanthira Deivam (1926) a short story by S.G. Ramanujalu Naidu, is one of the earliest stories in Tamil.
Writing, Publishing
Iyanthira Deivam got published in Anantha Gunabothini on 1926. It was written by S.G. Ramanujalu Naidu when he was the chief editor of the magazine.
Synopsis
The story is set in Lahore, Punjab. The story begins with a portrayal of the new manager of a company that supplies electricity to electric trains and his employee 'Ganda' from Africa. 'Ganda' who always gets beaten and scolded, begins to worship the machine. He sacrifices the life of manager James to the machine, who is always an interference for him. He tries to sacrifice the second manager to machine and fails in the attempt. James appears as a ghost and teaches him the lesson of overcoming the superstitious belief. "Even Ghosts sometimes do good things" is basically the message of the story which was conveyed humorously. 'Ganda' learns the ultimate lesson and becomes an expert in the machinery. The story ends with James saying he was never dead and was acting as a ghost to help 'Ganda' overcome the superstitious belief.
Literary Significance
Iyanthira Deivam contains two sections, one each for initial and later parts. The short story also dispels superstitions about the new electric train of the time.
Reference
"Viduthalaikku munthaiya Tamil Sirukathaigal (1892 - 1947)": Thervum Thoguppum: Arvind Swaminathan 2021, Yaavarum Publishers
‎
---
✅Finalised Page