Isaipadal
From Tamil Wiki
இந்தப் பக்கத்தை தமிழில் வாசிக்க: இசைப்பாடல் ‎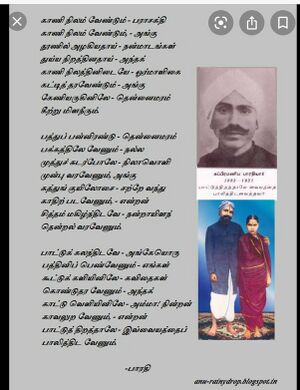 Isaipadal (poem set to music) is format originated from the Greek word Lyric. The word Lyric comes from the instrument Lyra, used for singing the song. This format has got minimum number of stanzas. It may be about an emotion, idea or a person.
Isaipadal (Romantic Poetry)
The researcher M. Vethasagayakumar points the presence of Isaipadal in all the ancient civilizations. Ancient Musical Poetry can be found in Egyptian, Hebrew and Latin languages. Researchers mention the European Renaissance period as the time of Musical Poems. 19th Century Romantic poets used the musical poetry format for their poems. Famous musical verses were written by the poets Shelley, Keats and Byron.
Isaipadal in Tamil Literature
In Tamil Isaipadal (Musical Poem) became popular in the 20th Century by the influence of the Romantic Poets. M. Vethasagayakumar mentions the presence of Isaipadal- like poems in the Sangam Classical literature as well.
Bharathi's poems can be considered as the best examples of the Isaipadal. His songs express specific moods. His patriotic songs are the best examples of Isaipadalkal (Musical Poems)
Senthamizhnadennum pothinile - inba

Then vanthu payuthu kathinile – engal

Thanthayar nadenum pechinile – oru

Shakthi pirakkuthu moochinile
Bharathidasan, and Kavimani Desigavinayakam Pillai the contemporaries of Bharathi used Isaipadal format in their songs. Isaipadal became less influential after Puthukavithai (Modern Poetry) format became popular.
Tamil film song composers, particularly Pattukkottai Kalyanasundaram and Kannadasan used Isaipadal format for their songs. There is a difference of opinion among the critics in accepting the literary significance of Kannadasan. The literary significance Isaipadal after Kannadasan is questionable.
Tamil Classical Isaipadal
Tamil lyrics from classical music tradition cannot be considered to belong to isaipadal format. Classical musical format has got a very long cultural tradition.
Reference
Ilakkiya Thiranayvu Kalanchiyam – M. Vethasagayakumar
‎
---
✅Finalised Page