Irattai Pulavargal
From Tamil Wiki
இந்தப் பக்கத்தை தமிழில் வாசிக்க: இரட்டைப் புலவர்கள் ‎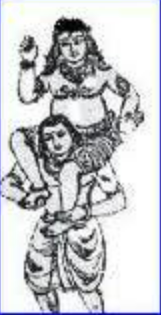 Irattai Pulavargal or Irattaiyar (Common Era 14th Century) are Tamil Poets. They are experts in singing Siledai (Pun). A pun, also known as paronomasia, is a form of word play that exploits multiple meanings of a term, or of similar-sounding words, for an intended humorous or rhetorical effect.
Personal Life
Irattai Pulavargal were cousins from a brother and sister, born in Alanthurai in the Chola country in Sengunthar clan. They lived in the time of Chera King Varapathiyaatkondaar. Their names are Ilanchooriar and Muthuchooriar. One of them was blind and the other one had impaired legs. Ancient palm leaf notes suggest that the blind one carried the lame person on his shoulders, with the man on top guiding the way.
Literary Life
Irattai Pulavargal composed poems of type 'Kavi'. Kavi type poems are of one of type Aasu Kavi, Madhura Kavi, Sithira Kavi or Vithara Kavi. Because of their special ability in composing Kalambagam, they were called 'Panbaaya Kalambakathir Kirattaiyar'. One person sings the first two lines and the other completes the second two. They went on pilgrimage to Siva temples and sang various hymns to Lord Shiva there. Irattai Pulavargal also received praise and gifts from the Chera king Varapathiyaatkondaar and many other nobles by singing poems in praise of them. They sung Prabandhams(minor literary works) and many other unique state hymns. Irattai Pulavargal composed Ekambara Natharula on Lord Thiruvegamba Perumaan. They sung Thillai Kalambagam' about Chitambara Natarajar. The book also covers the subject areas related to Congregations, Mandapams, Tirthas, Murthys, Thillai Moovayiravar, Puja system and poetics based on Sangam Literature on Chidambaram.
List of Books
Thillai Kalambagam
Nandhi Kalambagam
Aludaiya Pillaiyar Thirukalambagam
Thirupaathiripuliyur Kalambagam
Kanchi Egampara Natharula
Kanchi Egamparanathar Vannam
Thiru Amaathur Kalambagam
Thiyagesar Pancharathinam
Moovar Ammanai Paadalgal
Kachi Kalambagam
Kachi Ulaa
References
‎
---
✅Finalised Page