Ilakkiyapeetam
From Tamil Wiki
இந்தப் பக்கத்தை தமிழில் வாசிக்க: இலக்கியபீடம் ‎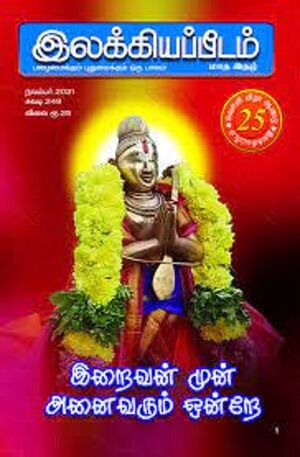 Ilakkiyapeetam(1997) is a magazine run by writer Vikraman. It is now run by an organization called the Literary Forum, after his demise.
History
Ilakkiyapeetam was first started by writer Vikraman in 1997 as a quarterly magazine and later became a monthly magazine. Ilakkiyapeetam is being published as a literature focused magazine with a slogan "Oviyam Seivom, Kaviyam Seivom, Kalaigal Valarpom[1]".
Events
Ilakkiyapeetam magazine presents Ilakkiyapeetam award for literature on its annual function along with the prize money of Rs. 10,000.
Ilakkiyapeetam magazine conducts a novel competition in the name of Thirumathi Renganayagi Ammal and presents Rs. 5,000 as prize money. The prize winning novel also gets published by Ilakkiyapeetam publications.
After writer Vikraman's demise, Ilakkiyapeetam magazine has been conducting an annual short story competition in his name.
The short story competition is being held by Ilakkiyapeetam magazine with the support of Mambalam Chandrasekar.
References
Footnotes
↑

Let us make paintings, let us make poetics, let us grow art
‎
---
✅Finalised Page