Ganesh, Vasanth
From Tamil Wiki
இந்தப் பக்கத்தை தமிழில் வாசிக்க: கணேஷ்,வசந்த் ‎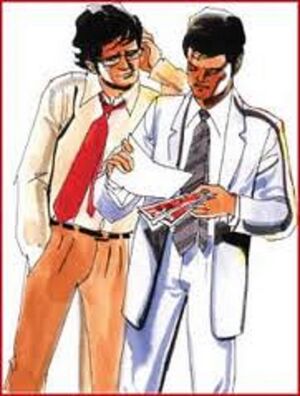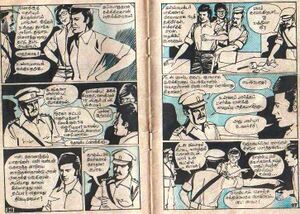 Ganesh, Vasanth are Detective characters created by writer Sujatha. Ganesh is a lawyer and Vasanth is his junior. They personally investigate crimes.
History
Ganesh made his debut as a minor character in the novel Nylon Kayiru by Sujatha in Kumutham magazine in August 1968 as a businessman in Mumbai. He was not a detective but a lawyer who defended and acquitted the accused. Then Ganesh came in as a lawyer working in Delhi and directly as a detective in the novel Anitha Ilam Manaivi. Ganesh had a helper named Neeraja in the story Pathi Rajyam. Her character expanded on the story Oru Vibathin Anatomy and then disappeared.
In 1973, Vasanth made his debut in the novel Priya. Vasant helps with the investigation in Gayathri. On initial days, on novels where Ganesh appeared as a solo act, one can see that he was carrying the characteristics of Vasanth.
In the novel Nirvana Nagaram, the characters of both Ganesh Vasanth are clearly defined. Painter Jayaraj has also given them faces.
Characteristics
Ganesh is intelligent, taciturn and sharp and aloof from women. Vasanth is a talkative young man. A chaser of women. Ganesh has an approach of gradual exploration and a totally unconventional approach. Vasanth is quick and discovers things intuitively. Both Ganesh Vasanth appear in the novels as complementary characters. Both Ganesh and Vasanth are depicted as unmarried and without any family.
Novels in which only Ganesh appears
Nylon Kayiru
Anitha Elam Manaivi
Priya
Novels with both Ganesh - Vasanth
Ah...!
Merke Oru Kuttram
Melum Oru Kuttram
Meendum Oru Kuttram
Ithan Peyarum Kolai
Kolai Arangam
Vasanth Vasanth
Pesum Bommaigal
Megathai Thurathubavan
Yavanika
Kolaiyuthir Kalam
Nillungal Rajave
Ainthavathu Athiyayam
Malai Maligai
Marubadiyum Ganesh
Ayirathil Iruvar
Amman Pathakkam
Ganesh X Vasanth
24 Rubai Theevu
Odathe
Nirvana Nagaram
Ethaiyum Oru Murai
Gayathri
Moondru Nimidam Ganesh
Vibareetha Kotpadu
References
‎
---
✅Finalised Page