G. Sarangapani
From Tamil Wiki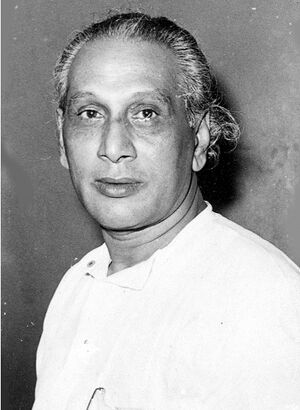 இந்தப் பக்கத்தை தமிழில் வாசிக்க: கோ. சாரங்கபாணி ‎

G. Sarangapani (Sarangapani Govindasamy) (April 20, 1903 - March 16, 1974) was a Singaporean community leader, identified as a journalist, writer and activist. He worked for more than 40 years for the betterment and unity of Indian communities living in 'Malaya' which was earlier a single country comprising Malaysia and Singapore. He was one of the pioneers in shaping modern Tamil literature and forging the roots of Tamil culture in Malaya. Celebration of Tamil Thirunal, which he initiated to promote the language and culture of Tamil people, paved the way for growth of Indian art and Tamil literature in Malaysia and Singapore. He leveraged Tamil Murasu magazine that he started, as a medium for social development.
Private Life
G. Sarangapani was born on April 20, 1903 at Thiruvarur in Tamil Nadu. He was fluent in both Tamil and English. G. Sarangapani completed his final year education at Thiruvarur High School. G. Sarangapani shifted to Singapore in search of a livelihood in 1924 at the age of 21. His daughter Rajam mentioned in an interview that G. Sarangapani had only two dhotis and two shirts at that time. According to the books written about him, G. Sarangapani began his career as an accountant in a shop owned by Singapore's big businessman Market Street P. Ibrahim Shah and quickly elevated himself as a manager through his hard work and talent.
G. Sarangapani, an accountant and administrator, set up the Ashoka Trading Company on chiliki road just before 1930 for importing and selling energy drugs and tonics that were very popular at that time. G. Sarangapani was selling books as well as acting an agent for printing work. G. Sarangapani purchased a printing press 'Star Press' located on chiliki road in 1933.
G. Sarangapani married Lim Boon Neo, a Chinese woman in Singapore in 1937. G. Sarangapani did not share the news of his wedding with his close friends too. The couple had four sons: Rajaram, Janakiram, Jayaram and Balaram, and two daughters: Radha and Rajam. After many years of community service, G. Sarangapani passed away at the age of 71 years on March 16, 1974 at 4:00 a.m. at the Singapore General Hospital.
Literary Life
G. Sarangapani was known as an essayist. Dr. Sivakumaran noted in his study that G. Sarangapani never embarked on fictional endeavors. G. Sarangapani however played an important role in the development of art and literature in Singapore and Malaysia. G. Sarangapani made these possible through Tamil Murasu, where he was the editor and founder, and Tamil Thirunal, which led to the rise of Tamil culture in Malaya in the 1950s. G. Sarangapani gave opportunity to a large number of Malaysian and Singaporeans in Tamil Murasu to write short stories, serials, essays and poems. He encouraged literary discussions to take place in Tamil Murasu.
One of the main reasons for the emergence of Malaya's literary sense was due to 'Rasanai Vahuppu' published in Tamil Murasu. On April 19, 1952, G. Sarangapani created a page Suba. Narayanan (Kandasamy Vathiyar) Vazhi (path) in Tamil Murasu daily. This taught readers the nuances of absorbing short stories.
G. Sarangapani formed 'Maanavar Mani Mandram' (Students Precious Forum) in May 2, 1952, realizing that the emergence of unique writers in Malaya would be possible only by the younger generation born in Malaysia. 'Maanavar Mani Mandram' magazine was published every Monday as a supplement to Tamil Murasu daily. Within a year of this forum's inception, 7,510 members joined in it. The members published various forms of writings and participated in many competitions. R. Karthikesu, Sai. Birmohammed A.S. Jeevananthan, M. Ilankannan, I. Ulaganathan, Rama.Kannabiran, Amaladasan, K.D.M. Iqbal, S.A. Anbananthan, Seeni Naina Muhammed and M. Anbuchelvan, who got nurtured in this forum, played important role in the development of literature with distinct identity in Malaysia in the seventies.
Tamil Ilaignar Mani Mandram (Tamil Youth Precious Forum) emerged as a continuation of this Students Mani Mandram. It was one of the oldest and leading Indian youth organizations in Malaysia.
G. Sarangapani started a writers council under the leadership of V. Thirunavukkarasu on July 5, 1952. On next day the council meeting began, G. Sarangapani wrote in the preface of Tamil Murasu issue that he made this effort to bring together the scattered writers. G. Sarangapani also organized a monthly short story competition, venba competition and vruthapa competition, and encouraged people with attractive prizes to write.
Launched on January 13, 1952, 'Tamil Thirunal' became a significant cultural event with an emphasis on language, literature and art. G. Sarangapani's contribution to the deepening of modern literature in Malaya was profound through the importance given to fiction in annual issues published by Tamil Murasu from time to time and his support for authors on publications.
Tamil Murasu pioneered in publishing the first Modern poetry 'Kalla Partugal' by C. Kamalanathan in 1964 in the Land of Singapore and Malaysia.
Journalism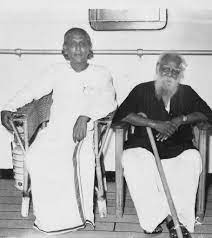 G. Sarangapani was inspired by the self-esteem movement established by E.V. Ramasamy (Periyar) in Tamil Nadu even before shifting to Singapore, and he played a key role in spreading the idea of self-esteem in Singapore.
On May 2, 1925, E.V. Ramasamy began publishing the 'Kudi Arasu' newspaper. G. Sarangapani was the distributor for this newspaper in Singapore. A weekly magazine 'Munetram' (Progress) was launched at Singapore on January 16, 1929. G. Sarangapani served as a co-editor and later, became editor in 1930. Following E.V.R.'s first visit to Malaya on December 20, 1929, G. Sarangapani along with his friend A.C. Subbaiah and others started Tamils Reform Association in Singapore in 1930.
G. Sarangapani expanded the activities of the association in various fields like rational propaganda, stage plays, sports, volunteer force, night class, etc. On Saturday, July 6, 1935, Tamil Murasu started as a weekly issue of the association. The first issue of Tamil Murasu was published from Tamils Reform Association's residence at Killian Road.
Launched as a weekly at the price of one paise, Tamil Murasu's sales volume was 200 copies. Within a span of an year, it became three issues a week and the sales went up to 3,000 copies.
In addition, the association also published an English monthly magazine 'Reform' for those who did not know Tamil. G. Sarangapani who was the secretary of the reform association at that time, served as the editor of both the magazines. G. Sarangapani started a printing press 'Star Press' even before the launch of Tamil Murasu, which helped him understand the intricacies of the press.
When the Association decided to halt the Tamil Murasu newspaper, G. Sarangapani acquired it on May 2, 1936. From then, it was published on large format eight pages for 3 paise. Tamil Murasu became a daily since December 1, 1937.
G. Sarangapani started the Indian Daily Mail, an English daily in 1939, with aim of conveying the voice of Indian community to the bureaucracy and uniting non-Tamil Indians. In 1956, the English daily was discontinued after years of losses.
For a few years, G. Sarangapani also ran an evening daily 'Desha Thoodhan' from Kuala Lumpur, while Tamil Murasu was the best-selling daily in Singapore and Malaysia in the 50s and 60s.
Social Activities
G. Sarangapani leveraged Tamil Murasu daily as a medium for his social endeavors. G. Sarangapani's focus was on underprivileged and marginalized people. During the colonial period, G. Sarangapani was the voice to the rulers and capitalists for the rights of plantation workers and daily wage workers.
From the 1930 to 1961, G. Sarangapani relentlessly steered the movement for legal registration of Hindu marriages until the women's charter came into force.
When 35+ private Tamil schools in Singapore were unable to function after World War II, G. Sarangapani negotiated with government to convert 23 of them into government aided schools. In 1948, G. Sarangapani established and headed Tamil Academy to oversee those schools.
On August 1, 1951, G. Sarangapani formed Tamil Representative Council (which later changed its name to Tamil Peravai) for uniting Tamils who were scattered into 50+ smaller associations and struggling. G. Sarangapani used this council as an effective instrument for welfare of the society. After forming this council, he founded the great movement Tamil Thirunal.
G. Sarangapani founded Tamil Thirunal as the harmonious day of unity of Tamils irrespective of their religion, and as a workshop cum training ground to develop the skills of Tamils. This 3 day Tamil Thirunal event in Singapore was a grand festival with participation of over 10,000 people.
G. Sarangapani fought for advancement of Tamil education, establishment of Indian Education Department at Malaya University and Tamil Library for it. Convinced that education could be the foundation for upliftment of Tamil people, G. Sarangapani continued his call for a Tamil high school and then a Tamil department in the university. As a result, the Umaru Pulalar Tamil High School was established in Singapore on March 30, 1960.
Department of Indian Studies and Library for same were established at Malaya University by the determined efforts of G. Sarangapani. Though many people worked in various ways in the formation of Tamil Department and its Library at Malaya University,G. Sarangapani's actions through Tamil Murasu print magazine, which was the main medium at that time, created huge ripples in the country. He created a fund 'Tamil Engal Uyir' (Tamil is our life) and arranged for the purchase of Tamil books for the Indian section library of Malaya University. Malaya University was established in 1949 at Singapore-Malaysia union in Malaya. Department of Indian Studies was started in 1956 following constant pressure from the society. Editorials and news published in the Tamil Murasu of the 1950s are testimony to the relentless efforts of G. Sarangapani's to arouse the sentiments of Tamil people through Tamil Murasu for the inclusion of Tamil in the University of Malaya and to raise funds for the functioning of this Department, by conveying that majority of Indians living in Malaya were Tamils and that Tamil language should be included in the Department of Indian Studies.
One of the important social works that G. Sarangapani did in Singapore was to arrange the Tamil people living here to get Singapore citizenship. When many of the working-class people who lived here were reluctant to obtain the Singapore citizenship, G. Sarangapani wrote about it in the newspaper and helped the citizens to apply for same.
Recognitions
When Thavathiru Kundrakudi Adigalar visited Kuala Lumpur in 1955, he honored G. Sarangapani with special title 'Thamizhavel'. G. Sarangapani is respectfully referred to as 'Thamizhavel' in Malaya.
In 2003, the centenary celebration was celebrated in Malaysia and Singapore for G. Sarangapani's outstanding contributions to Tamil and Tamil people in Malaya. The community set up 'G. Sarangapani Educational Trust' and donated 1.1 million Singaporean dollar.
Conferences and studies were held in Malaysia on G. Sarangapani and a newly built Tamil school in Kedah state in 2015 was named after him.
References
Links
‎
---
✅Finalised Page