Eezhanaadu
From Tamil Wiki
இந்தப் பக்கத்தை தமிழில் வாசிக்க: ஈழநாடு ‎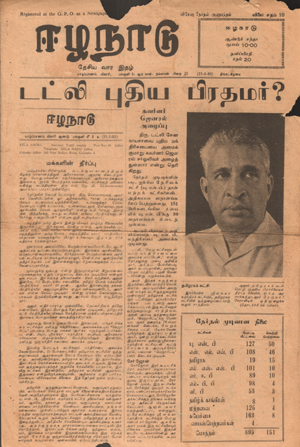 Eezhanaadu (1959) is a Tamil newspaper published in Sri Lanka. It is known to be a Tamil daily published from Jaffna. It was referred to as the voice of Jaffna's Tamil people.
Creation, Publication
This magazine was published in 1959 by K.C. Thangaraja, a Jaffna-based businessman who was the chairman of the Jaffna Valaichenai Eastern Paper Mills Corporation. All newspapers including Tamil newspapers published in Sri Lanka were published from Colombo, the capital of Sri Lanka. Since Jaffna, which was considered the cultural centre of Sri Lankan Tamils, lacked newspapers that reflected their voice, two brothers, K.C. Thangaraja and K.C. Shanmugarathinam founded the publishing house "Kalanilayam" in Jaffna in 1958. In February 1959, they started a newspaper named "Eezhanaadu" as a Kalanilayam publication. Initially it was released twice a week. From 1961, it was published as a daily newspaper. It was the first daily newspaper published in a Sri Lankan city other than Colombo.
The primary editors of Eezhanaadu were S.M. Gopalarathinam and K.P. Haran. The Editors of the Sunday weekly edition of Eezhanaadu were S. Subharathinam, M. Parvathinadasivam. When Eezhakesari was closed in 1958, its editor Raja Ariyaratinam joined Eezhanaadu. Many people such as A.S. Muruganandham, Perumal, Sasibharathi, S.S. Guganadhan, Kasilingam, Sabarathinam, Magadeva, Ananda Balakitnar, E.K. Rajagopal, K.V.J. Thirulogamoorthy, Iyya Sachidanandam, K.K. Iyyadurai, S. Thiruselvam, A.P. Suriyakandhan, Ka. Yoganadhan, S. Jegadeesan, A.N.S. Thiruselvam, Parvathi Nadhasivam, Kandasamy, Duraisingam, Mahalinga Sivam.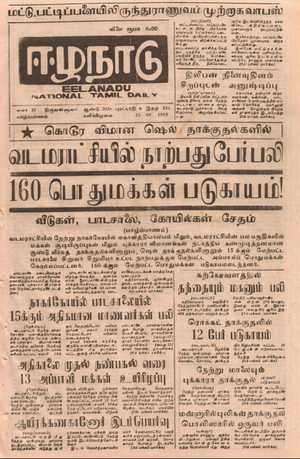 Attacks, Cessation
When the Jaffna Public Library was burnt in June 1981, the Eezhanaadu office was also burnt down by the same mob. In 1987 it was attacked by Indian Peace Keeping Force and was damaged beyond use. In February 1988, it was targeted by militant bombings. After each attack, the newspaper publishing was restarted within a short interval. The newspaper ceased publication in 1995 due to continuous press censorship, threats and economic crisis.
Memoirs
Eezhanaadu's 25th Anniversary Special Release
Published on February 11, 1984 with 56 pages as a magazine. This special release published articles on the history of Eezhanaadu newspaper, writers' experience articles and more.
Amaradeepam
This book was printed in 1987 by Chettiar Press. This 76-page book, accompanied by photographs, details the life and work of K.C. Thangaraja (June 20, 1907 - July 20, 1987) who started the first Tamil daily in the Tamil homeland of Eelam and developed Tamil. This release was compiled and published by Eezhanaadu staff and published on the occasion of K.C. Thangaraja Srardha Day, containing obituaries and memorial articles of various social figures.
Ennul Ennodu (In Me With Me)
This book was published in 2002 by S.K. Kasilingam through France: Mukundan Publishing. The book was published with 256 pages and photographs, the journalist Mr. Kasilingam shared his experiences in this book categorized as three sections namely journalistic experiences, politics, diaspora life. In the first part, he has described his journalistic experiences in Eezhanaadu.
Pathirikai Paniyil Arai Nootrandu (Half Century in Journalism)
A book written by S.M. Gopalarathinam, Yazhpanam(Jaffna): was published in November 2003 by Bharathi Publishing House. He has shared about his journalistic experience as an editor in Virakesari for 7 years and in Eezhanadu for 21 years.
Relaunch
In 2019, Eezhanadu was relaunched in Jaffna. Director of Jaffna Eezhanadu Private Limited and Chairman of DAN Television Group, Senior Journalist S.S. Guganathan published the Eezhanadu Weekly Newspaper in Jaffna. Mali Mahalingasivam, editor of the London Fashion Magazine, S. Ratnarajan, son of Eezhanadu founding director Dr. Shanmugaratinam and many others participated in the event.
E-Newspaper
Eezhanadu Newspaper is also available online - https://eelanadu.lk/
Collections
Eezhanadu Newspaper Collections Online - Category : Eezhanadu - Library (noolaham.org)
References
‎
---
✅Finalised Page