Cuckoo Movement
From Tamil Wiki
இந்தப் பக்கத்தை தமிழில் வாசிக்க: குக்கூ இயக்கம் ‎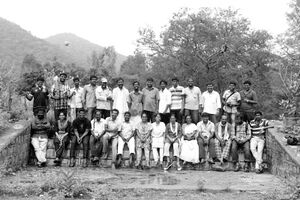 Cuckoo Children's Movement is a voluntary movement created to introduce alternative education to children. It started with Sivaraj, a social worker who coordinates volunteers.
Cuckoo Children's Movement
The 'Cuckoo Children Movement' was started in 2002 with the hope of creating change in the inner space the children of the world . Cuckoo works in a child-oriented and ecological way, setting up libraries in mountain villages, conducting various art camps in Government schools, and publishing small books. 'Cuckoo Forest School' is functioning in Puliyanoor village, at the foothills of Jawadhumalai, Krishnagiri district. The aim is to impart alternative education to children through Arts, Crafts and Literature.
Cuckoo Forest School
Cuckoo Forest School was started on 2016 by people like Sivaraj and Peter Jeyaraj from Cuckoo Children's Movement with the primary goals of living with nature and getting back to nature. It was inaugurated by toy maker Arvind Gupta.
Thumbi Children's Magazine
With the objective of providing a colorful illustrated stories to the village children in Tamil at a low cost, 'Thumbi Children's Monthly Magazine' was started with the best printing quality. Thumbi has been published since 2016 as a bilingual storybook in Tamil and English (www.thumbigal.com).
Thannaram Noolveli
Thannaram Noolveli' a publishing hours, was created in 2017, out of a dream to continuously print books on Gandhism, Ecology, Self-reliance, Education, Agriculture, Theology, Life, Philosophy and children's books in Tamil with good design and high quality. The books of various important authors including writer Jeyamohan have been published by Thannaram Publishing House.
Village Well Reconstruction Movement
A Village Well Reconstruction Movement was formed in 2019, in order to clear and clean the wells located in water-scarce areas and convert them into usable water sources again.
Thannaram Award
Thannaram Organization has been giving awards annually to honor the active literary personalities. The award includes a prize of one lakh rupees and a sculpture. A documentary will also be made about the awardee. The award, which has been presented from 2020 onwards, has been given to Yuma Vasuki (2021) and Devi Bharti (2021).
Mugam Award
This is an award given by the Cuckoo Organization to those who engage in public service.
Principles
Sivaraj mentions, The responsibility and willingness to bring positive things to young minds is felt as a vital need of the times. He also says, It is the principles of their organizations to imbibe all the Philosophies and Mentors who are not alienated from life and provide the aspiration to love this life again and again with confidence.
References
‎
---
✅Finalised Page