Choolai Somasundara Nayakar
From Tamil Wiki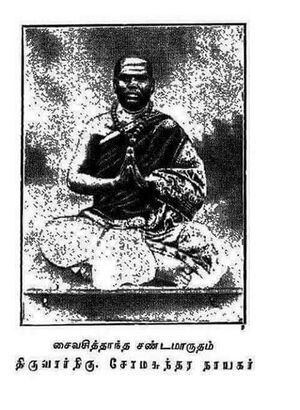 இந்தப் பக்கத்தை தமிழில் வாசிக்க: சூளை சோமசுந்தர நாயகர் ‎

Choolai Somasundara Nayakar (16 August 1846-22 February 1901) was a Tamil Saivite scholar. He was one of the first people to compile the ideas of Saiva Siddhantha philosophy in the 19th century. He was the teacher of Maraimalai Adigal.
Birth and education
Choolai Somasundara Nayakar was both in the Choolai suburb of Chennai to Ramalinga Nayakar and Ammani Ammal. He was called Arangasami at birth. He was formally initiated into Saivism by Achuthananda Adigal (he obtained 'dikkhai' from him) and adopted the name of Somasundaram. He studied up to Class Ten in school, where he learnt Telugu and English. He also learned Tamil and Sanskrit in the traditional way from Pulavar Muthu Veerar.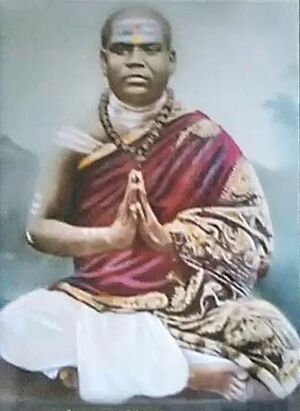 Personal Life
In the beginning he worked as an accountant in a leather godown. Then he took up work as a clerk at the Chennai Municipality. During this time he was a well-regarded Saivite religious orator and commentator on texts. In 1881 he resigned from his job in the municipality. He started writing in the magazine 'Siddhantha Deepikai'. In 1898 he married Sivanjanathammal. The couple had three daughters, Jagadhambal, Visalatchi and Kolambal, and a son called Sivapadham. Kolambal died young.
Works
Somasundara Nayakar was primarily a religious orator. He spoke at length about the Saiva Siddhantha philosophy in public meetings. His talks were composed of careful logical arguments refuting other philosophical schools like Vedanta and Vaishnavism. In 1907, he started a journal called Siddhantha Ratnakaram that carried articles about Saiva Siddhantha. Because of his tough style, Somasundara Nayakar was called Saivasiddhantha Sandamarutham ('The Saivite Typhoon'). The editor of 'Siddhantha Deepikai' J.M.Nalluchami Pillai was his close friend and confidante. Somasundara Nayakar taught Ma.Thi.Bhanukavi and Na.Kathiraiver Pillai Siva Siddhanta and Tamil.
Titles
'Vaidika Saiva Siddhantha Sandamarutham' (conferred by the Rajah of Ramnad Bhaskara Sethupathi)
'Parasamaya Kesari' (Thiruvavaduthurai Saiva Monastary)
‎
---
✅Finalised Page