Cho Dharman
From Tamil Wiki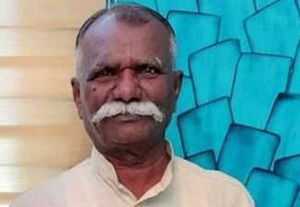 இந்தப் பக்கத்தை தமிழில் வாசிக்க: சோ. தர்மன் ‎

Cho Dharmaraj also known as Cho Dharman (born August 8, 1953) is a novelist and short story writer of modern Tamil literature. He portrays the lives of agricultural people of Karisal soil. He had a special place in the literary realism wave that emerged during the 90s in Tamil literature. He received the Kendriya Sahitya Akademi Award in 2019 for his novel Sool.
Birth, Education
Cho Dharman was born on August 8, 1953, to M. Solaiyappan and Ponnuthai belonging to a farming family. His hometown is Urulaikudi near Kadalaiyur in Kovilpatti Taluk of Thoothukudi District. He completed primary education at Urulaikudi Panchayat Union School, secondary education at Tirunelveli Diocesan Trust Association School (TDTA), Kadalaiyur and higher secondary education at Nadar Higher Secondary School, Kovilpatti. He finished his professional education at St. Mary College, Thoothukudi.
Private Life
Cho Dharman married Mariyammal (daughter of writer Poomani) and they have two sons: Vinod Madhavan and Vijaya Srinivasan. He worked for twenty years from 1976 to 1996 at the Loyal Textile Mill, a private industrial unit in Kovilpatti. Post retirement, he became a full-time writer living in Kovilpatti. Cho Dharman was in trade union for twenty years and was in charge of the All India Trade Union Congress.
Literary Life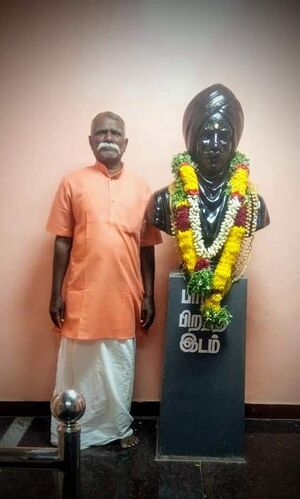 Kovilpatti literary atmosphere which was steered by writers Ki. Rajanarayanan, C. Kanakasabapathy, Jyothi Vinayakam and Devathachan prepared Cho Dharman towards literature. Cho Dharman became a writer inspired by the writings of Ki. Rajanarayan, the pioneer of Karisal stories. Cho Dharman published his first short story Viruvu in Mahanadhi magazine issued from Madurai.
Cho Dharman started writing in 1980. So far, he published 13 books, 8 collections of short stories including Anbin Sippi, Eeram, Sogavanam and Vanakumaran and and 4 novels. The first novel, Thoorvai, was published by Sivagangai Annam Publishing House in 1996. His role models include Ki. Rajanarayanan, Jeyamohan, S. Ramakrishnan and Venkataswaminathan and he was in conversation with them.
Cho Dharman wrote a biography on Villisai (musical bow) artist Pitchaikutty. He received Sahitya Akademi Award in 2019 for his novel Sool published in 2016. Cho Dharman is interested in writing about environmental awareness and, knowledge and culture of traditional life in harmony with nature. It is noteworthy that the Madurai High Court ruled a verdict citing his concern in face book post "Goats and cows are not allowed to drink water in government leased tanks, and shepherds are beaten up and driven away".
Literary Significance
Most of Cho Dharman's novels are based in his hometown, Urulaikudi. The theme is on problems that arise in human relations due to the decline of agriculture over last fifty year and the consequent deterioration of village social order. Critic Jeyamohan assesses Cho Dharman as a realistic and aesthetic writer. Cho Dharman's writing is about creating a credible field of life through the author's uninterrupted depiction of factual information and emotionless unexaggerated portrayals, to steer the readers into their conclusions from it.
Cho Dharman's Thoorvai (1996) talks about the story of a dalit couple: Minuthan and Madathi, revolving around the lives of two generations of people in Urulaikudi village. At the end, the village of Urulaikudi is dry and is occupied by match and sack factories. Those who worked on the agricultural land move to work in factories.
Koogai (Owl) novel (prize winning book for the development of Tamil) symbolizes the individuals who have an unchangeable destiny. Koogai cannot see during the day. Other Little birds, aware of its weakness, fly around it during the day and peck at it. Koogai is scared, cramped and unable to do anything. Its fury explodes only at the night. This symbolizes the life of two generations of dalit people of Chithrampatti village near Kovilpatti. Ordinary people who once worked as laborers on the agricultural land for meeting their end needs, over time, got redeployed themselves as laborers to matchbox, cracker's and ginning factories. And those who were farm owners at that time sold their land and migrated to the city or became the factory owners there itself. While the avatars change, the fate doesn't change.
For the novel Sool (2016), Cho Dharman received Sujatha Award in 2016 and Sahitya Akademi Award in 2019. This novel portrayed the prevailing state of irrigation tanks which were the livelihood of farmers. He symbolized an irrigation tank in this novel as the mother who gives birth to children and lives. Cho Dharman depicted the eighth crescent shaped irrigation tank into a sooli, a symbol and an architype. This novel is about the recurring issues that can happen against irrigation tanks. The chapters on this novel unfold the anxieties of the people of this region over time.
Pathimoonaavathu Mayyavaati(2020) novel is centered on Karuthamuthu in Urulaikudi village. The story unfolds as he goes out of the village for the purpose of education and, as he learns the world through his experiences.
Cho Dharman belongs to a caste identified as dalit by birth. But he is of the opinion that such identities are in no way relevant for literature. He worked with left-wing organizations for thirty years. But he says that left-wing ideas shall not be made the subject of literature and that those ideologies shall not dictate the point of view of a literary man. He imagines himself as a storyteller who tries to tell the story of his village realistically. Though he is a scholar of literature, he thinks that his writing shall sound the voice of a common man. His writing is influenced by both Ki. Rajanarayanan and Poomani. His works expresses the moral outrage and historical sense of the common man in Tamil literature.
"Cho Dharman is the identity of Karisal region after K. Azhagiriswamy, Ki. Rajanarayanan and Poomani" says writer Konangi.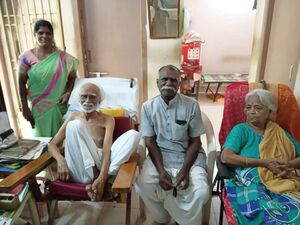 Awards
Ilakkia Chinthanai best short stories award in 1992 and 1994
For the novel Koogai, best book award from Tamil Development Board, Government of Tamil Nadu.
For the novel Sool (2016), Sujatha Award in 2016
For the novel Sool (2016), Sahitya Akademi Award in 2019
Tamil Nadu Government Awards from former Chief Minters Karunanidhi and Jayalalitha
Justice V. R. Krishna Iyer Award and Sundaranar Award from Manonmaniam Sundaranar University
Tamil Literary Garden Award (2005)
Ananda Vikatan Award (2019)
Publications
Short Stories
1. Viruvu
2. Vazhaiyadi
3. Manidham
4. Thodakam
5. Mulaikum Siragugal
6. Eeram
7. Choru
8. Sarugugal
9. Kuruthu
10. Sidhaivugal
11. Uthiripoo
12. Azhuku
13. Appavigal
14. Thavam
15. Konalgal
16. Kazhivigall
17. Ocham
18. Madugal
19. Azhutham
20. Adamaanam
21. Sikichai
22. Valaigal
23. Sirushiti
24. Marunthu
25. Uozhl
26. Avasthai
27. Sapam
28. Irundadhu
29. Neerppazhi
30. Maidhaanam
31. Nizhal Paavaigal
32. Silaiyalla Kannagi
33. Chatta Veligal
34. Irukkam
35. Manam Ennum Unjalile
36. Enakkana Arisi
37. Chidharalgal
38. Vanakumaran
39. Nadappu
40. Vittu Vizhagi
41. Naasi
42. Thargathu
43. Kodigalin Niram
44. Parthukondirukum Pirapancham
45. Vamsam
46. Varthaigal
47. Vicharam
48. Vadhai
49. Thanneerum Panpadum
50. Regaigal Azhivadhilai
51. Sangili
52. Vaadhai
53. Vadigaal
54. Maiyal Ippi
55. Raja Matha
56. Naraai Naraai
57. Thalumbu
58. Iravin Maranam
59. Ahimshai
60. Nasukam
61. Manusham
62. Kurali Vithaikaran
63. Sogavanam
64. Midavai
65. Sir Post
66. Sithiyangal
67. Manam
68. Anbin Sippi
Novels
Thoorvai (1996)
Koogai
Sool (2016)
Pathimoonaavathu Mayyavaati (2020)
Collection of Short Stories
Eeram
Sogavanam
Vanakumaran
Anbin Sippi
Neerppazhi (Collection of 68 short stories, 2020, Adaiyalam Publishers)
Treatise
Villisai Kalaignar Pitchaikutty (2014), a biography on Villisai (musical bow) artist late Pitchaikutty
References
‎
---
✅Finalised Page