C.K Subramania Mudaliar
From Tamil Wiki
இந்தப் பக்கத்தை தமிழில் வாசிக்க: சி.கே. சுப்பிரமணிய முதலியார் ‎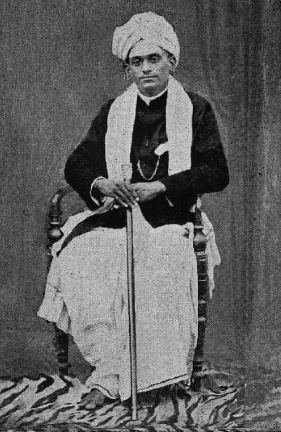 C.K Subramania Mudaliar (C.K.S.) (Sivakavimani Subramania Mudaliar) (February 2, 1877 - 1961) is a Tamil scholar who contributed to spreading Shaivite devotion in the twentieth century. C.K.S wrote a detailed treatise on Periya Puranam which occupies a significant place in Tamil literature and in Shaivite theology.
Birth, Education
Sivakavimani Subramania Mudaliar was born to Kandasamy Mudaliar (advocate) and Vadivammal on February 2, 1877. Kandasamy Mudaliar belonged to the Kondalkatti Kudinelvilayar genealogy which migrated from Mangadu, near Kanchepuram. Kandasami Mudaliyar was a lawyer and popular Saivite Tamil Scholar who wrote few Saiva devotional books. C.K.Subramaniya Mudaliyar started his education with his father and continued with another teacher called Vaithyalingam. From 1894 to 1906 he studied Tamil and Saiva philosophy from Thiruchittambalam Pillai. Thillai Sivagnana ThanivazvadikaL and Muthukumarasami Thampiran are his other teachers.
After completing his F.A in Kovai and B.A in Madras Presidency College, C.K. subramaniya Mudaliyar studied law (U.C.S)
On 1918 while popular Saivite scholar Kayapakam Sadasiva Chettiyar was invited to Porur to deliver a one month long speech on Periya Puranam C.K.Subramaniya Mudaliyar helped him to read the text on stage and it gave him a deep introduction on the text, to which later he wrote a detailed commentary.
Private Life
C.K.S married Meenatchi Ammai, daughter of Kanakasapai Mudaliyar ,from Salem ,Gangavalli. He was studying B.A. at that time. Menatchi Ammai died at her early age and Mudaliyar married her relative Meenakshi. He had no children on both wives . He adopted his brother Rajaratna Mudaliyar's daughter Mangayarkarasi.
Subramania Mudaliar practiced as a full time lawyer for forty eight years in Coimbatore from 1903 to 1951. During this period, he held various positions in multiple organisations such as member of the Charitable and Religious Endowment department and member of Kovai City council in 1910, Member of Coimbatore Municipal council and Deputy Chairman from 1022 to 1925
Educational Services
Mudaliyar was senate member of Madras university in 1921 and worked as Commissioner of Tamil Language at Madras University from 1926 to 1929
Institutional works
Mudaliyar constituted Sekizhar Thirukudam, an organisation to propagate Periya Puranam
Mudaliyar developed his Kovai Tamil Sangam constituted by his teacher Thiruchittambalam Pillai in to a big organisation
Mudaliyar conducted a school for Saiva Text Devaram
National Struggle
Even at a young age, Subramania Mudaliar seriously engaged himself in the activities of Indian National Congress. In his autobiography he talks of going to hear a speech by Surendranath Banerjee at a meeting chaired by Lalmohan Ghosh. This autobiography, written in 1956 was published only in 2006. C.K.S organized a function in Kovai to felicitate Bipin Chandra Pal. He gave a reception to the editor of Swadesamitran, G. Subramania Iyer in Kovai. He also participated in Swadeshi movement. Subramania Mudaliar was in correspondence with Sri Aurobindo and G. Subramania Iyer. When collector Ashe was shot dead by Vanchinathan, based on the information given by Neelakanta Brammachari, the Madras police searched Subramania Mudaliar's home on August 11, 1914. Subramania Mudaliar did many favors to V.O.Chidambaram Pillai (V.O.C) during the time when the latter was in jail. Later he described these events in his book Pithan Oruvanin Suyasarithai (Biography of a Mad man). V.O.Chidhambaram Pillai also referred Mudaliyar's help on his biographical notes .
Literary Life
Subramania Mudaliar's first book was Manickavasagar or Neethaar Perumai, published in 1924. In 1930, the speech he had delivered at Madras University was published as a book. In addition to these, C.K.S has written other smaller books namely Thirupu Koliyoor Avinaasi Perunkarunaiyammai Pillaithamizh, Thiruthondar Puranathil Murugan, Arthanareeswarar Allathu Mathirikku Pathiyin Karuvoorthevar and Vaseegar Allathu Meyyunardhal.
Periya Puranam
Mudaliyar is considered as the first one wrote a detailed and complete commentary on Periya Puranam, a Saivite sacred text written at 12th century AD. He worked on it for more than 19 years and the first volume was published at 5 June 1935 at Chidambaram Temple. The seventh volume was published on 1954 June. Thiruppananthaal, Thiruvavadudhurai, Dharmapuram mutts as well as Madras University and Annamalai University have helped in publication of Subramania Mudaliar's research work. In this narrative, Subramania Mudaliar used the information he had received during his conversations with the likes of Kathiresan Chettiar, V.O.C, Vengadasamy Nattar etc., before and after 1935. The narrative also covers the inscriptions that were discovered during those times and the history of Pallava and Chola empire. He made extensive travels to the places referred at the text and gave detailed narration on the historicity of the stories in it. He refers Va.Mahadeva Mudaliyar's book Periya Purana Araychi (Research on Periya Puranam) as his pioneer text.
Journalism
Together with Ramachandra Reddiar, Mudaliya ran a monthly magazine, Kongumalar.
Religious Interests
Mudaliar travelled to the hamlets and villages where the Nayanmars had lived. He created a map of his pilgrimage from Nambiyaroorar, Thiruvennainalur to Thiruvarur. He did field research to identify the Periya Puranam based sculptures in temples of Tamil Nadu, compiled the information he had collected during these field researches and published them.
Mudaliyar took Saiva Deksha (Oath) from Chidambaram Muthukumarasami Kurukkal and lived as a Saiva devotees life. After his wife's death at 1954 he took Sanyas from Madurai Adhenam , a premiere Saiva Mutt and become a Sanyasi.(Monk) taking a monastic name of Sambandha Karunaalaya Thamburan.
Awards
He was awarded the Sivakavimani title by the Province of Madras.
The title of Thirumarai Gnana Banu was awarded to him by Madurai Athithanaar.
Death
Mudaliyar died on January 24, 1961.
Bibliography
Poems
Thirupu Koliyoor Avinaasi Perunkarunaiyammai Pillaithamizh
Kandha Puraana Potri Kalivenba
Thiruperoor Rettai Manimaalai
Marudhangovai
Narratives
Manickavasagar Allathu Neethar Perumai (1924)
Sekkizhaar Nool (1930)
Sekkizhaarum Seyizhai Kizhaarum
Semmanithiral
Thiruthondar Puraanathil Murugan
Arthanareeswarar Allathu Maathirukkum Pathiyaan
Karuvoorthevar
Vaseegar Allathu Meiyunarthal
References
‎
---
✅Finalised Page