Ayyampettai Venugopal Pillai
From Tamil Wiki
இந்தப் பக்கத்தை தமிழில் வாசிக்க: அய்யம்பேட்டை வேணுகோபால் பிள்ளை ‎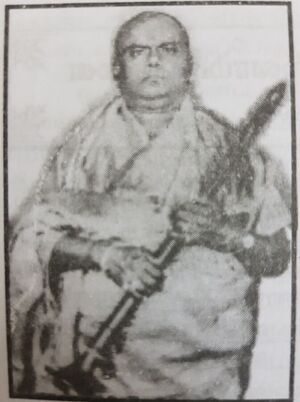 Ayyampettai Venugopal Pillai (September 3, 1904 - October 14, 1965) was a Nadaswaram artist. Nadaswaram is a traditional reed instrument from South India.
Early Life
Venugopal Pillai was born to Bhagyathammal on September 3, 1904 in Ayyampettai near Thanjavur.
Venugopal Pillai was first trained in music by Veerabhadra Pillai of Ayyampettai. Five years later, Venugopal Pillai underwent gurukul[1] training with Thiruveezhimizhalai Subramania Pillai in Nadaswaram music. Venugopal Pillai learnt kirtans [2]and sahitya (literature).
Private Life
Venugopal Pillai had three brothers and three sisters:
Elder sister Pappammal (Husband: Ayyampettai Krishna Pillai (Nadaswaram))
Gnanasundaram Pillai (Thavil)
Ganesha Pillai (Nadaswaram)
Rajathiammal (Husband: Bharata Vidushi Baroda Gowriammal's son Tulasidas Pillai)
Arumugam Pillai (lived in Ganapathi Agraharam)
Dharmambal (Husband: Kumbakonam Venkatachalam Pillai)
Venugopal Pillai married to Visalatchiammal, the daughter of Ayyampettai Krishna Pillai (Nadaswaram artist). They had two sons and three daughters:
Subramaniam (Nadaswaram)
Kanakammal
Karthikeyan
Vijaya
Susheela
Musical Work
Venugopal Pillai who was famous for his raga [3]aalapanai[4], was expert in playing thodi raga purely as gamakas[5] (interlude). Places where thodi raga renowned Thiruvavaduthurai T. N. Rajarathnam Pillai was conducting his performance, Venugopal Pillai played thodi raga in his own style and received many accolades.
Venugopal Pillai was capable of performing raga aalapanai continuously for many hours without getting tired. Venugopal Pillai was awarded the title of 'Nallisai Nambi' in Kumbakonam in appreciation of his music work. Venugopal Pillai won many medals and shawls in places like Udayarpalayam zamin, Chettinad, etc. Venugopal Pillai was presented with a five sovereign gold medal at the Kapaleeswarar temple in Chennai.
Students
Ayyampettai Venugopal Pillai's key students include the following:
A. T. Govindaraja Pillai (renowned dance master at Bombay, initially Nadaswaram artist)
Thirukkattupalli Venugopalan
Uraiyur Narayanasamy
Sangeeth Master Madurai G.S. Mani (learnt Vocal Music)
Thavil Artists played with Ayyampettai Venugopal Pillai
Gnanasundaram Pillai (Brother)
Umayalpuram Thangavel Pillai
Thirumullaivoyal Muthuveera Pillai
Koranad Govindaraja Pillai
Nachiarkovil Raghava Pillai
Death
Ayyampettai Venugopal Pillai passed away on October 14, 1965.
References
Mangala Isai Mannargal - P.M. Sundaram - First Edition - Muthusundari Publishers, Chennai, December 2013
Footnotes
‎
---
✅Finalised Page