Armenian Church
From Tamil Wiki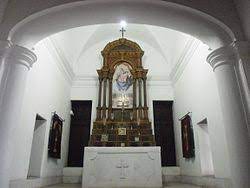 இந்தப் பக்கத்தை தமிழில் வாசிக்க: ஆர்மேனியன் சர்ச் ‎

Armenian Church (Armenian Church, St. Mary Church) is one of the oldest churches in India. The old Armenian Church was built on 1712 in Chennai's George Town Armenian street and was rebuilt on 1772. The bell tower (belfry) on its premises and the six bells within it are of historical and artistic significance.
Church
The Armenian Church is now a traditional symbol. The tombs of more than three hundred and fifty Armenians are on the premises of the Armenian Church. The church is funded by the Armenian Apostolic Church, which is called National Church of the Armenian People. Its maintenance work is overseen by a committee of the Armenian Church in Kolkata.
There are two main places in this Armenian church,
The body of Reverend Haroutiun Shmavonian, the founder and editor of the world's first Armenian newspaper ("Azdarar"), is buried on the church premises.
The bell tower located in the premises of this temple bears six bells and is stacked on top of each other in pairs.
Bell Tower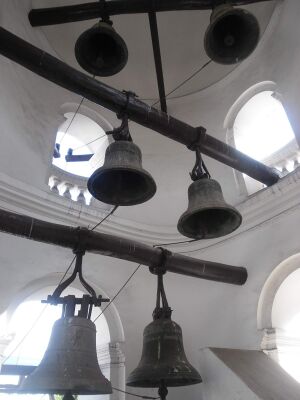 The bell tower of the Armenian Church was built in 1754. The six bells within it vary in size from twenty-one to twenty-six inches. Each hour weighs one hundred and fifty kilos. These are the largest and heaviest bells in the churches in Chennai. One of the bells is said to have been erected in 1754. Notes on its restoration in 1808 are in Tamil. Another bell has a reference to its founding year being 1778. Analysts say the note on the top of these two bells was given to them by Eliazar Shawmier. Eliazar Shawmier died at the age of nineteen and was buried on the premises of the Armenian Church. According to sources, he was the son of a prominent Armenian merchant in Chennai. The present church is built on top of his private church.
The other two bells have the reference to 1837. From the reference to Thomas Myers, Founder, London above, it appears that it was later founded by the Whitechapel Bell Foundry, later known as Myers & Steinbank.
Armenians
Armenians came as trading groups into the then Madras province. They are believed to have come to Chennai from Armenia via the Hindu Kush Mountains. While the British merchants sold cotton fabrics, the Armenians sold precious silk fabrics and precious stones. There were evidences of the low number of Armenians living in the province of Madras at that time. Currently there are no Armenians in Chennai.
References
External Links
‎
---
✅Finalised Page