Aravind Swaminathan
From Tamil Wiki
இந்தப் பக்கத்தை தமிழில் வாசிக்க: அரவிந்த் சுவாமிநாதன் ‎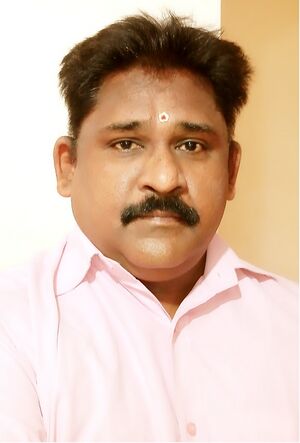 Aravind Swaminathan (March 29, 1972) is a Tamil writer. His birth name is Pa. Swaminathan. Aravind Swaminathan has also written under pseudonyms Sisubalan and Pa. Su. Ramanan. He specializes in researching, composing, and translating ancient texts. Aravind Swaminathan has written religious books. In the US-based magazine Thendral, he has written and published articles about hundreds of Tamil writers.
Birth and Education
Aravind Swaminathan was born in Chennai on March 29, 1972, to P.S. Balasubramanian and Ananthi. He attended elementary school in Triplicane, Chennai. Aravind Swaminathan's higher education was at SMS school in Keezhasevalpatti of Sivangangai district and Ramanathan Chettiar high school in Narchanthupatti of Pudukottai district. He studied polytechnic diploma at Annamalai Polytechnic College, bachelor's and master's degrees in Tamil at University of Madras, and a master's degree in philosophy at Karaikudi Azhagappa University.
Personal Life
Aravind Swaminathan married Professor S. Srividya on August 31, 2007. The couple has two daughters, Jaishree and Saishree. He works in Thendral magazine as editor.
Literature Life
During his childhood days, Aravind Swaminathan had sent jokes, articles and stories to children magazine such as Gokulan and Rathnabala. Ananda Vikatan published his first book on Pondicherry Mother "Varam Tharum Annai" in 2006. Aravind Swaminathan continues to write books about the life of religious personalities such as Mahan Seshadri and Ramakrishnar. He is an editor at Thendral magazine, which is published in the United States. Aravind Swaminathan has documented the efforts of hundreds of Tamil writers and literary personalities in Tamil the online magazine. Aravind Swaminathan was critically acclaimed for his compilation work Viduthalaikku Munthiya Sirukathaigal', which is a collection of Tamil Short stories from before independence of India.
Literature Significance
Aravind Swaminathan considers Bharathiar, Pudhumaipithan, Kalki (writer), Mu. Varatharajan, Na. Parthasarathy, Ra.Su. Nallaperumal, Ashokamitran as his inspiration. Among his important articles are his interviews with writers and articles about them. Aravind Swaminathan is interested in publishing a compilation of his research based on ancient texts. They dissect and present pictures of history. According to Asathambi, Aravind Swaminathan's Antha Kaala Pakkangal presents the peculiar factors of Tamil life that were prevalent in the late 19th century and early 20th century.[1]
Awards
Puthukottai ilakkiya peravai viruthu
Anbu palam viruthu from Palam foundation
Bibliography
Research Compilation
Antha kaala pakkangal - Part 1 and 2 (Thadam publications)
Viduthalaikku munthiya tamil sirukathaigal - Part 1 (Yaavarum publications)
Viduthalaikku munthiya tamil sirukathaigal: Pen ezhuthu - Part 1 (Yaavarum publications)
Senra nootrandin sirukathaigal (Naveena virutcham)
Religious Books
Sekkizhar's Periya puranam (Thamarai brothers media private limited)
Sri Seshadri ayiram (Thamarai brothers media private limited)
Sri Ramana bhagavatham (Thamarai brothers media private limited)
Sri Ramakrishna paramahamsar (Thamarai brothers media private limited)
Sidhargal vazhvil (Thamarai brothers media private limited)
Gnanigal vazhvil (Sri Vignesh and Co)
Murpiravi - marupiravigal unmaiya (Sri Vignesh and Co)
Nadi jothidam unmaithana (Sri Vignesh and Co)
Ramanar ayiram (Suriyan publications)
Arutperunchothi (Suriyan publications)
Girivalam (Suriyan publications)
Yogi ramsurathkumar vazhkaiyum ubadesamum (Suriyan publications)
Kasi yathirai (Suriyan publications)
Varam tharum annai (Vikatan publications)
Maha yogi Sri aravinthar (Vikatan publications)
Guru tharisanam (Vikatan publications)
Arutprakasa Vallalar (Vikatan publications)
Pamban Srimath Kumaragurudasa swamigal (Thrisakthi publications)
Tiruvannamalai magangal (Salem book house)
Reference
Footnotes
‎
---
✅Finalised Page