Aralvaymozhi Meenakshi Amman Temple
From Tamil Wiki
இந்தப் பக்கத்தை தமிழில் வாசிக்க: ஆரல்வாய்மொழி மீனாட்சி அம்மன் கோயில் ‎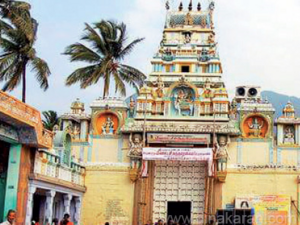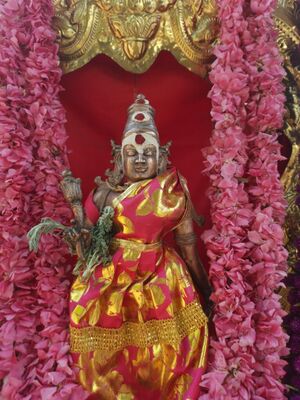 Aralvaymozhi or Aralvaimozhi Meenakshi Amman Temple is a temple located in Kanyakumari district of Tamil Nadu. This is the second temple dedicated to Goddess Meenakshi of Madurai. The main deity of this temple is Paragodi Kandan Shasta. Later, Meenakshi and Sundareswarar were installed.
Location
The temple is by the Tirunelveli-Nagercoil Road, in a suburb called Vadakkur in the town of Aralvaymozhi.
History and Legend
The primary deity of this temple is Paragodi Kandan Shasta. As per legend, Shasta is suyambu or swayambhu (self-manifested). Paragodi Kandan Shasta was the deity of the Thondaiman Paravar community who lived in Aralvaymozhi. Researchers claim that the deity Kandan later became Shasta. According to local legends, when hunters were hunting a rabbit, they stabbed it with a spear and blood came out of a rock. They installed and worshiped Kandan Shasta on that rock.
There are no legends about Meenakshi and Sundareswarar in Aralvaimozhi Meenakshi Amman Temple. According to history, during the invasion of Malik Kapoor, the commander of the Delhi Sultan Alauddin Khilji in 1311, the priests secretly brought Meenakshi and Sundareswarar from Madurai to Venadu of that day and hid them in the Paragodi Kandan Shasta temple. Later period Travancore historical notes state that Meenakshi Amman was in Aralvaymozhi till 1368.
Madurai Meenakshi appeared in the dream of Vijayanagara Emperor Kumarakampana Nayakkar's wife Gangamma Devi, ordering her reinstatement in the Madurai temple. Kumarakampana Nayakkar's army defeated Sikander Shah, the ruler of Madurai. Madurai Meenakshi and Sundareswarar were reinstated to Madurai after the Madurai temple was restored. The event is mentioned in Gangamma Devi's book Maduravijayam. Since there are no official books or inscriptions that say Madurai Meenakshi Amman lived in Aralvaymozhi, this story should be regarded as hearsay.
Temple Structure
Paragodi Kandan Shasta is the temple's moolavar (primary deity). Sundareswarar and Meenakshi have their own karuvarai (sanctum sanctorum). Pillaiyar, Perumal, Murugan, and Kalabhairava each have their own shrines.
Poojas
Aralvaymozhi Meenakshi Amman Temple Open Hours
5:00 AM - 11:00 AM

5:00PM - 8:30 PM

Usha Pooja
6:30 AM
Kalasuthi Pooja
9:05 AM
Uchakala Pooja
10:30 AM
Sayaratchai Deepa Aradhana
6:30 PM
Arthajama Pooja
7:45 PM
Athazha Pooja
8:00 PM
Festivals
Aralvaymozhi Meenakshi Amman Temple hosts a 10-day festival in the month of Panguni and a 4-day Thirukalyana (marriage) festival in the month of Chittirai. On Panguni Uthiram day, during the 10-day celebration in Panguni, there is a Thamburan Vilayattu (a Sapparam ritual).
On horseback, Paragodi Kandan Shasta will ride a sapparam. From below, the horse and sapparam will be rotated. Fifty individuals will spin and dance while raising the sapparam together. The one-hour performance is a ritual depiction of Shasta's hunt for his enemies. Meenakshi Amman and Sundareswarar appear in the street procession and bless the devotees for the entire 10 days.
Thiruvavaduthurai Adheenam
The Thiruvavaduthurai sub-monastery, which is in charge of this temple, is on the lakeshore near the temple. A pool called Akaligai Ootru has a stairway and a mandapam around it. The mandapam comprises the Siddhar Samadhi, the Agathiyar Temple, the Kalabhairava Temple, and the Murugan Temple. In 1956, Agasthiyalingam Pillai took over the area and established an office. However, there is no permanent custodian on the premises.
Kumarithuraivi
The novel Kumarithuraivi, written by Jeyamohan and published in 2021, is based on the note that Madurai Meenakshi Amman and Sundareswarar were kept in this temple.
Quotes
‎
---
✅Finalised Page