Arahnath
From Tamil Wiki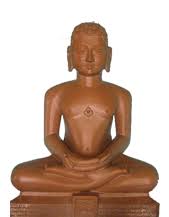 இந்தப் பக்கத்தை தமிழில் வாசிக்க: அரநாதர் ‎

Arahnath was the eighteenth Tirthankara[1] of Jainism.
Mythology
Arahnath was born in Ikshvaku clan to king Sudarsana and queen Mitradevi in Hastinapur town. Arahnath, a Siddha purusha, was freed from the shackles of karma, attained enlightenment, lived for 84,000 years and liberated at Mount Shikharji.
Inscription
In Mathura, there is an old stupa with an inscription of 157 C.E. The inscription records that the image of Tirthankara Arahnath was erected on this stupa built by the devas. However, 'Somadeva Suri' in the Yashastilaka and 'Jinaprabha Suri' in the Vividha Tirtha Kalpa texts claim that the stupa was erected for 'Suparshvanatha'.
Labels
Body color: Golden color
Symbol: Fish
Tree: Mango
Height: 30 Dhanusha (90 meters)
Hand: 120 nos.
Age at the time of liberation: 84,000 years
First meal: Kheer offered by Emperor Aparajitha of Chakarpur
Chief Disciples (Gandhars): 30 (Kumbharaya)
Yaksha: Mahendra Dev
Yakshini: Vijaya Devi
Temples
Arahnath Temple, Hastinapur, Uttar Pradesh.
Chaturmukha Basadi, a square shaped temple dedicated to Arahnath in Karnataka.
Prachin Bada Mandir, Hastinapur, Uttar Pradesh.
Reference
Footnotes
↑

An important spiritual teacher in Jainism
‎
---
✅Finalised Page