Apputhi Adigal
From Tamil Wiki
இந்தப் பக்கத்தை தமிழில் வாசிக்க: அப்பூதியடிகள் ‎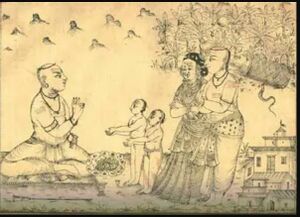 Apputhi Adigal was one of the 63 Nayanars (Nayanmars), who were Shaivite saints.
Life
Apputhi Adigal was born into the Brahmin caste, in Thingalur of the Chola kingdom. He was devoted to Thirunavukkarasar, one of the 63 Nayanmars. So he offered free food, lodging and water to those in need in the name of Thirunavikkarasar. Once when Thirunavukkarasar went to Thingalur, where Apputhi Adigal lived, he was amazed to see that a lot of charity was offered in his name. He heard about Apputhi Adigal and went to meet him at his house.
When Thirunavukkarasar met Apputhi Adigal, he asked him why he was not doing charity in his own name, but rather in the name of Thirunavukkarasar. Not knowing that he was talking to Thirunavukkarasar himself, Apputhi Adigal pointed out that Thirunavukkarasar, who was earlier a great Jain saint, now embraced Shaivism by the grace of Lord Shiva and was doing a lot of charity. Devotion to the Lord's servants is better than the love for the Lord Himself, he said.
Impressed by Apputhi Adigal's devotion, Thirunavukkarasar revealed his identity. Apputhi Adigal was overjoyed at this and invited Thirunavukkarasar to eat at his house. The son of Aputhi Adigal who went to cut banana leaves for the feast was bitten by a snake and died. Not wanting to disrupt the saint's meal, Apputhi Adigal and his wife hid their grief and served Thirunavukkarasar food. But Thirunavukkarasar asked Apputhi Adigal to bring his son to eat with him.
With no other option, Apputhi Adigal reported that his son had been bitten by a snake and died. Thirunavukkarasar sang on Lord Shiva, singing that everything was a play of the Lord and resurrected Apputhi Adigal's son.
In Shaivism, the story of Apputhi Adigal is told to explain that Lord Shiva and his devotees are one and the same. The mythology of Apputhi Adigal tells us that he attained his liberation just by serving and worshipping Thirunavukkarasar, a devotee of Shiva.
Poetry
A song that tells the story of Apputhi Adigal in Thiruthondar Thiruvanthathi
Thanamavathu thirunavuk karasin saranamenna
Manamar punarpanthar vazhthivaith thangavan vanthamizhkke
Inamathanathu peyaridap petravan engalpiran
Anamar mayal thingaloorinil vethiyan appoothiye
A song that tells the story of Apputhi Adigal in Thiruthondar Puranam
Anthamil natringalur varum appoothi
Arumaraiyor thirunavukkarasin namam
Pantharidai ezhutha kandarasum eithap
Paninthu pari kalanedi padappai serntha
Mainthanuyir uyar kathali ilaimel thunjum
Valaravu kavara udan maraithal kettuch
Sinthaimagizh thuyar padiga marunthal theerthuth
Thiruvamuthu seya arulaich sernthulare
Guru Puja
Every year in the month of January, on the Sadaya Nakshatra, a Gurupuja for Apputhi Adigal is celebrated in the Shiva temples.
References
The History of Nayanmars - Tamil Development Board - Thiru. V. Kalyanasundaram
Saivam Valartha Arupathu Moover - Vijaya Pathippagam - C.S. Devanathan - Fourth edition - 2016
‎
---
✅Finalised Page