Anaya Nayanar
From Tamil Wiki
இந்தப் பக்கத்தை தமிழில் வாசிக்க: ஆனாய நாயனார் ‎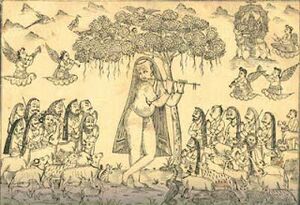 Anaya Nayanar is one of the Saiva saints of 63 Nayanmars.
Life
Anaya Nayanar was born in Aayarkudi at Thirumangalam in Malanadu which was a part of Cholanadu. As head of the Idayar clan, Anaya Nayanar was good at protecting and shepherding the cattle herd. After allowing the cows to graze, Anaya Nayanar had a habit of playing the flute, that reflected the five syllables (Panchakshara) of Lord Shiva.
Lord Shiva's Play
One day in the forest, during rainy season, Anaya Nayanar saw a Kontrai (cassia tree), full of garlanded bouquets of flowers and fruits hanging like braids. It seemed to him like Lord Shiva who Anaya Nayanar worshiped everyday, wearing a Kontrai garland. Anaya Nayanar stood in front of it and his soul melted. His engrossed love for Lord Shiva overflowed as the eternal flute music of a song composed with the five syllables of Lord Shiva.
Cows and calves got captivated by this music and surrounded him. All the birds got mesmerized and came closer to him. Nature too remained absorbed in that music. Lord Shiva appeared to him and blessed him with Liberation.
Poetries
Thiruthondar Thiruvanthathi explains Anaya Nayanar's story in a poem as
Tayavan yavukkum thazhsadai Melthanit thingalvaitha
Thuyavan padam thodarndu tholsirthulai yarparavum
Veyavan melmala nattu viripunal mangalakon
Ayavan anaya yennai yuvanthan taruliney
Thiruthondar Puranam explains Anaya Nayanar's story in a poem as
Mangalama mazhanattu mangalama nagarul maruvupugazh
Anayar valara meyppaar, konkalarpun thirukonrai
Marungu charnthu kuzhalisaiyil ainthezhuthung kuzhaiya
Vaithut thangusara sarangalellam uruga nirpat thambira
Nanaindusevi thazhthi valndu pongiavaan
Karunaipurintendrum udap podhugen rarula vudan poyi nare
Guru Puja
Guru puja is celebrated every year for Anaya Nayanar in Shiva temples on Hastham star day in the month of Karthikai (Tamil calendar).
Reference
Nayanmar Varalaru - Tamil Development Board - Thiru. V. Kalyanasundaram - 2016
Saivam Vartha Arupathu Moovar - Vijaya Pathippagam - C.S. Devanathan - Fourth Edition - 2016
‎
---
✅Finalised Page