Anantnath
From Tamil Wiki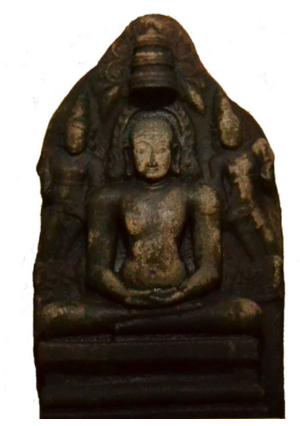 இந்தப் பக்கத்தை தமிழில் வாசிக்க: அனந்தநாதர் ‎

Anantnath was the fourteenth Tirthankara of Jainism.
Mythology
Anantnath was born to Ikshvaku clan king Simhasena and queen Suyasa in Ayodhya. Anantnath was a Siddha Purusha, who got freed from the shackles of karma and attained liberation on mount Shikharji in the state of Jharkhand, India.
Previous Birth
King of Arishtha town in Dhatkikhand was loved by all women for his beauty, personality and courage. However, he took initiation from Acharya Chitraaksh for his passion towards spiritual practices and got his soul purified. Due to this, he reincarnated in the Pushpotar dimension of Gods. From there, the soul travelled to the earth to reach the womb of queen Suyasa for taking birth as Tirthankara and attained its liberation.
Sculpture Identification
Body colour: Golden brown
Symbol: Porcupine
Tree: Peepal
Height: 50 Dhanusha (150 m)
Hand: 200 hands.
Age at the time of liberation: 30 lakh years
First meal: Kheer offered by King Vishakh of Saketpur
Chief Disciples (Gandhars): 50 (Shri Jaya)
Yaksha: Kinnar Dev
Yakshini: Anantmati Devi
Literature
Janna wrote the Ananthapurana in 1200 C.E.
Temples
Lord Anantnath temple at Kalpetta, Wayanad district of Kerala.
Lord Anantnath Temple at Madhuban
References
‎
---
✅Finalised Page