Amma Vandhaal
From Tamil Wiki
இந்தப் பக்கத்தை தமிழில் வாசிக்க: அம்மா வந்தாள் (நாவல்) ‎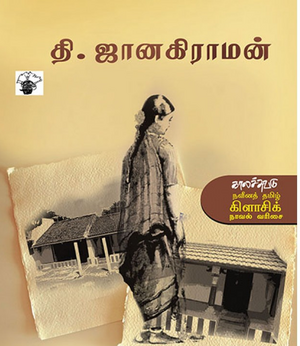 Amma Vandhaal (1966) is a novel written by Thi. Janakiraman. It explores the psychological aspect of a mother-son relationship. It is known to explore the Oedipus complex and the relationship between lust and introspection. The portrayal of a mother's extramarital affair was controversial.
Editions
The first edition of Amma Vandhaal was published in 1996. The second edition was published in 2011, and the third edition was published by Kalachuvadu in 2014.
Author
Amma Vandhaal is the fifth novel written by Thi. Janakiraman. The backdrop of this novel is native Brahmin community of Thanjavur, just like the backdrop of his other novels. This novel depicts the relationship between a mother, who has an extramarital affair, and a son, whom she sends to a Vedic school as an atonement for her mistakes.
Thi. Janakiraman translated an Italian, a Nobel Prize winner, Grazia Deledda's novel "La Madre" into Tamil as Annai. A mother wants her son to become a priest, but he encounters a girl that likes him, which perplexes the mother; this is the narrative of the novel. Critics suggest that Amma Vandhaal may have been written under the influence of this novel. Thi. Janakiraman's brother shut him out, questioning the morality of Amma Vandhaal, and the controversies caused by it. He was also ostracized by his caste.
Synopsis
The novel Amma Vandhaal is from the perspective of Appu, a young Vedic scholar.
Appu is the son of Dhandapani and Alangarathammal. Bhavaniyammal, a woman from a small village next to the Kaveri river, runs a Veda Padasalai (school); Appu studies the Vedic scriptures until the age of 16. He wishes to live with his parents after schooling.
Bhavaniyammal's (adopted) daughter, Indu, a widow, confesses her love for Appu. He struggles briefly but denies any feelings towards her. He says that he regards her as being as sacred as his mom and the Vedas. Indu is enraged at hearing this, ergo makes a baffling revelation about his mom.
Appu finds out the veracity of the truth when he goes back to town, and it is true. His mother is in a long term relationship with their family friend, Sivasu. All his siblings are Sivasu's children. Dhandapani is also aware of this. Alangarathammal claims to have sent Appu to read the Vedic scriptures to atone for her sins.
Appu returns to the Veda Padasalai. He accepts Indu with Bhavaniyammal's blessings and decides to take over the Veda Padasalai. Subsequently, Alangarathammal goes to the Padasalai. She looks at her son with Indu and says, "I thought you would learn the Vedic scriptures and return as a Rishi; and that I could atone for my sins through you. However, you've proved to be my son." The mother leaves, claiming to go to Kasi by herself.
Characters
Appu - A student in Bhavaniyammal's Vedha Pathshala.
Bhavani Ammal - The one who runs the school.
Indu - Bhavaniyammal's (adopted) widowed daughter.
Alangarathammal - Appu's mother.
Dhandapani - Appu's father.
Sivasu - A rich man who had an affair with Alangarathammal.
Literary Significance, Reviews
The novel appalled the readers at the time of publication, as it depicted the extramarital affair of a mother. Some critics even consider this novel a distasteful work. Thi Jaa was not considered for the Sahitya Akademi Award, since the novel was regarded as in 'Bad taste'. Critic Ka. Naa. Subramanyam did not welcome this novel.
However, the critics of the newer era appreciate Amma Vandhaal for its sophisticated portrayal, character arcs, articulated conversations, and nuanced psychology. The following instances are considered by the critics to transgress traditions in their own capacities: Appu's heart being naturally with Indu; Dhandapani's silence; Bhavaniyammal, Alangarathammal, and Indu being multigenerational women, and breaking norms. It is also noted that Alangarathammal's character resonates with the deep-seated image of Ambal amongst the Tamil Brahmin writers.
Controversies
The Vedam school depicted in Amma Vandhaal was almost like Thi. Janakiraman's brother's Vedic Padasalai (however, the other events are fictionalized). Thus, Thi Jha's brother was in dismay when the novel was published. [Janakiraman's friend Karichan Kunju records this*]
In the novel, a mother from the Bhramin community had an extramarital affair. This created hostility against Thi Jha within their caste. He was excluded. Later, Thi Jha commented on the incident, "I would like to say that art is born with outcasts."
Translations
Amma Vandhaal was translated into English twice.
M. Krishnan translated it as 'The Sins of Appu's Mother' and published it in 1972.
Malati Mathur translated it as 'Remembering Amma' and published it in 2006.
References
‎
---
✅Finalised Page