Akaramudhalvan
From Tamil Wiki
இந்தப் பக்கத்தை தமிழில் வாசிக்க: அகரமுதல்வன் ‎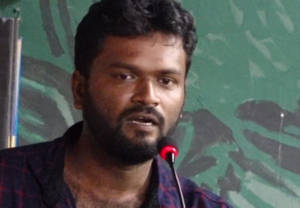 Akaramudhalvan (August 11, 1992) is a poet, writer and essayist. Born in Sri Lanka, he currently lives in India and Eelam often forms the backdrop in his works. He works in the film industry.
Birth, Education
Akaramudhalvan was born on August 11, 1992, in Pallai, Kilinochchi District, Sri Lanka, to Sundaralingam and Jayajyothi. He has studied in Jaffna (Saiva Sanmarga Sangam), Kilinochchi, Mullaitivu and many other places. Born during the Eelam war, he was forced to move from place to place.
Personal Life
He married Jayaprabha on August 27, 2018. He has a son, Athiran. Akaramudhalvan is a full-time writer who also works in the film industry.
Literary Life
Akaramudhalvan's debuted as a writer with a poem that was published in 2000. He lists Kasi Ananthan (poet), Puthuvai Ratnathurai (poet), Ambuli (poet), Kasthuri (poet), Adilakshmi Sivakumar (writer), Malaimagal, M. Thalayasingam and, Shanmugam Sivalingam as his literary influences.
"The characters in my stories are flagbearers of an essential truth that rips apart the false narratives built around the three-decade-long armed liberation struggle of the Tamil people" says Akaramudhalvan while talking about his reason for writing fiction.
Literary Significance
Akaramudhalvan's fiction is an exploration of the plight of the Eelam refugees and the history of the Eelam struggle. He presents this through the lens of an individual's life experiences. As an essayist, he talks about the politics and the literary tradition of the Eelam. "Akaramudhalvan's stories express his inner turmoil. The Indian Tamil mind chooses to look away from the Eelam problem just as they would look away from maggots in a flesh wound. Akaramudhalvan's depiction of the Tamil Eelam life makes us feel like the maggot and the wound too," says writer Nanjil Nadan.
Awards
Jeyanthan Pataippilakkiya Award
Kovai Vasagar Vatta Kavignar Mira Award
Tamilnool Veliyutu Matrum Tamilnool Virpanai Membattu Kuzhuma Award
Works
Poems
Aththarunathil Pagai Veezhthi
Aram Vellum Anjarka
Tankigalil Sariyum Mullai Nila
Short Stories
Irandam Leprinant
Mustafavai Suttukondra Or Iravu
Ban Ki-moon'in Rwanda
Maaberum Thai
Novella
Ulagin Miga Neenda Kazhivarai
Interview
Nandru edhu? Theethu edhu?
Editor
Jeyandhanin Therndhedutha Sirukadhaigal
Thuilatha Oozh- Eezha Samakala Sirukathaigal
Links
‎
---
✅Finalised Page