Ajitanathar
From Tamil Wiki
இந்தப் பக்கத்தை தமிழில் வாசிக்க: அஜிதநாதர் ‎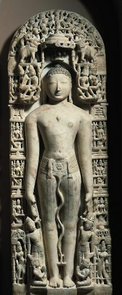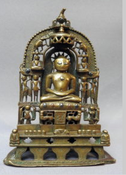 Ajitnathar was the second Tirthankar of Jainism. According to the Jain scriptures, he was the Siddha Purusha freed from Karma.
Mythology
Ajitnathar was born in Saketa to Ayodhya king Jitasatru and queen Vijaya of Ikshvaku clan. The Jains believe that he was 72 lakh years old at the time of his death and 450 Vil in height. He observed penance under a sala tree for twelve years and attained Moksha[1] on the day of Chittirai Valarpirai Panchami in the town of Sikarji. According to Jain tradition, his younger brother, Sagar, became the second emperor. Ajitnathar is also known from the traditions of both Hinduism and Jainism.
Vedic Ajitanathar
The name of Ajitnathar is mentioned in the Yajur Veda, but its meaning is obscure. According to the Jain tradition, Ajitnath's younger brother Sakaran (Bhagirathan's grandfather) ruled Ayodhya, this is also found in Hindu tradition.
Properties of the Sculpture
Color: Blonde
Vehicle: Elephant
Yakshan: Mahayatson
Yakshini: Ajitha
Literature
Ranna's Ajitha Purana narrates the story of Ajitanathar.
Compiled by Nandisena in the 7th century, Ajitashanti Ajitanathar sings the praises of Chandinathar.
Ajitnathar Temples
Tharanga Jain Temple, Gujarat.
Vasai Jain Temple, in Bhadrasar
References
Compendium of Jainism. Dharwad: University of Karnataka (1980)
Footnotes
‎
---
✅Finalised Page