Adinatha
From Tamil Wiki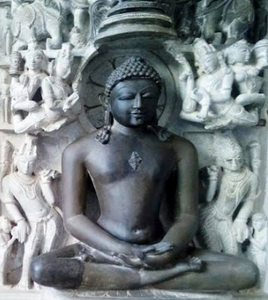 இந்தப் பக்கத்தை தமிழில் வாசிக்க: ஆதிநாதர் ‎

Adinatha (Aadinathar or Adinath) founded Jainism. He was the first of the 24 Jain Tirthankaras.
Mythology
Adinatha was born to Kosala king Nabhi and queen Marudevi in Ayodhya in the Ikshvaku dynasty. Adinatha was also known as Rishabh of Kosala. Adinatha is believed to have two wives: Yashasvati and Sunanda. Bharata and Brahmi were born to Yashasvati. Baahubali and Sundari were born to Sunanda. Adinatha imparted the alphabets (letters) to his daughter Brahmi and the numbers to his daughter Sundari. Because of this, Tamil script was named after Brahmi. India is known as Bharatavarsha and Bharatakhanda, name derived after Bharata, the eldest son of Adinatha. In his old age, Adinatha underwent severe penance in the Himalayas and attained liberation.
Other Names
Rishabhanatha
Rishabhadeva
Arugan
Adinatha's Temples in Tamil Nadu
A large number of temples were built for Adinatha in Viluppuram, Tiruvanamalai and Kancheepuram districts in Tamil Nadu.
Adinatha's Sculpture
Adinatha's sculpture usually depicts him sitting in penance under a three tiered umbrella with Samaradaris on both sides. Nandhi is the symbol of Adinatha.
Adinatha Worships in Tamil Nadu
Thyaga Durgam Malaiamman Temple
Agalur Adinathar Temple
Veedur Adinathar Temple
Puzhal Adinathar Temple
Ponnur Adinathar Temple
Othalapadi Aniyadha Azhagar Temple
Poondi Ponninathar Temple
Uppuvellore Adinathar Temple
Kizhl Idayalam Rishabhanathar Temple
Kunnathur Rishabhanathar Temple
Mudalur Adinathar Temple
Melmalayanur Rishabhanathar Temple
Villukam Adinathar Temple
Thachur Adinathar Temple
Adinathar Pillaithtamil
Adinathar Pillaithamizh was written by an unknown author before the year 1600 C.E when Mylapore area was engulfed by sea. This was a poetic volume about King Adinatha who ruled the country out of Vidanapuri, also known as Ayodhya.
Reference
‎
---
✅Finalised Page