Abitha
From Tamil Wiki
இந்தப் பக்கத்தை தமிழில் வாசிக்க: அபிதா ‎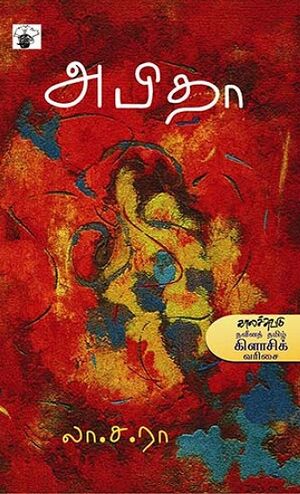 Abitha (1970) is a novella written by La. Sa. Ramamrutham. This novel employs various narrative techniques such as the stream of consciousness method, memories, language play, and alliteration. It presents the author's recognition of divine element in women.
Writing, Publication
In 1968, La. Sa. Ramamrutham wrote this novel while he worked in Tenkasi. It was published in 1970.
Synopsis
Ambi, the protagonist, goes to Karadimalai with his wife Savitri. He reminisces about his childhood days and Shakunthala, his childhood infatuation. He left Karadimalai as a young boy and met Savitiri's father who gave him a job and married him to his daughter, Savitri. However, they are childless which causes a strain in their relationship. Ambi learns about Shakunthala's demise when he goes searching for her in Karadimalai. Shakunhala's daughter, Abithakuchalambal is the same age as Shakunthala when Ambi left town as a boy. She looks just like her mother. Ambi is enraged when he learns that her step-uncle likes Abithakuchalambal. Later, she dies in an accident while travelling with her step-uncle. Ambi's glad to know that she died as a virgin. La.Sa.Ra mentions this in his foreword to the book.
"Among the goddess' many names, one is Apeethakuchalambal. In Tamil, Unnamulai amman. (The mother whose breast is not suckled upon). In spoken usage, it became Apeetha, and was further shortened to Apitha. This term expands into a latitude of interpretation and imagination, and I gave it my own meaning. Apeetha - Untouched, One who cannot be Touched"
Literary Significance
La.Sa.Ra's cyclical narrative, stream of consciousness style and the use of images such as Ambal and Shivalingam are appreciated by critics and readers. This novel emphasizes how women are possessed like commodities; paradoxically the same women are worshipped as goddesses and mothers. These layers make the novel a remarkable work.
Links
‎
---
✅Finalised Page