Aarambasiriyan
From Tamil Wiki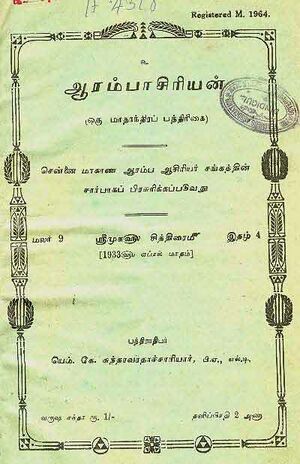 இந்தப் பக்கத்தை தமிழில் வாசிக்க: ஆரம்பாசிரியன் ‎

Aarambasiriyan (Fledgling Teacher) was a monthly magazine started in 1924.
Publications
M. K. Sundaravaradachariar B.A, L.T was editor of this magazine on behalf of the Madras Provincial Primary Teachers' Association.
Aarambasiriyan published following news letters related to elementary education
Opatra Oar Asiriyar (An Unparalleled Teacher)
Kulandaigalukaga Naam Valvom (Let us Live for Children)
Iyarkaiarivu Paadam (Natural Education)
Kaipazhakartirkaga Velaigalin Paadathitam (Curriculum of Jobs for Handicrafts)
Arpudaseidigal (Wonderful News)
Sangaseidigal (Sangam News)
Aarambasiriyan also published several books on education by establishing Asiriyar Noorpadipu Kazhagam (Teachers Association of Publication).
Reference
‎
---
✅Finalised Page