Aadhavan
From Tamil Wiki
இந்தப் பக்கத்தை தமிழில் வாசிக்க: ஆதவன் ‎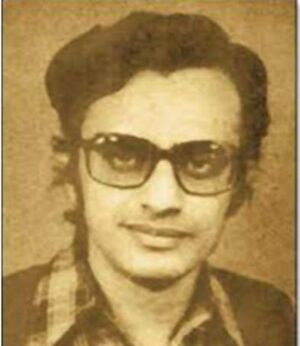 Aadhavan (1942-1987) was a Tamil writer who started writing in the 1960s. He wrote about the nuances of city life of that era and the pretences and hypocrisies of its people. He worked at the National Book Trust.
Personal Life
Aadhavan was born as K. S. Sundaram on March 21,1942 in Kallidaikurichi, Tirunelveli. He studied in Delhi and worked for the Indian Railways for 7 years. He also worked at the National Book Trust as a sub-editor in the Tamil wing in Delhi from 1975, and later worked in Bangalore in 1984. He married in 1976. His wife's name was Hema. After Aadhavan's demise, she started to work at the National Book Trust. He had two children, Charumathy and Neeraja.
Death
He died in an accident in the Tungabhadra river in Sringeri on July 24,1987, at the age of 45 .
Literary Life
Aadhavan, with one of his friends, started a hand-written magazine named Anukundu when he was in the 7th grade to alleviate the loneliness of not being able to express his individuality in sports or education.
His collection of short stories Singaraja Kumari and Kanakathin Naduve are a contribution to children's literature. He emerged as a writer during his college days in 1962. Ananda Vikatan published his stories as special featured content (Muthirai Kadhaigal). Following that, his stories were also published in Deepam magazine under the editorship of Na. Parthasarathy. His first novel Kagitha Malarkal was a continuation of his stories from Deepam magazine. Indira Parthasarathy and Ashokamithran were his favourite senior writers.
Literary Aesthetics
His writings on the Indian metropolitan city life accurately portray the absurdities of the upper classes. He analysed human emotions and self-deceptions with a psychological approach. Kagitha Malargal and En Peyar Ramaseshan were stories set in Delhi that talked about the inner-conflicts of middle-class youths who couldn't completely fit into the modern world or the age-old traditions. Oru Pazhaiya Kizhavarum, Puthiya Ulagamum, Mudalil Iravu Varum, Sivapaai, Uyaramaai, Meesai Vechikamal, Lady are few of his critically acclaimed short stories.
Writer Ashokamitiran said, "In 1967, I read two of his [Aadhavan's] short stories Interview and Upper Birth. I was awestruck by his accurate and honest portrayal of the minds of educated youth of modern India. It has been 20 years since, and he has never once failed to impress me as a person or as a writer."
Awards
He was awarded the Sahitya Akademi Award posthumously for his collection of short stories titled Mudalil Iravu Varum.
Works
Short stories collection
Kanavukumikal [1975]
Kaal Vali [1975]
Oru Araiyil Irandu Narkaligal [1980]
Pudhumaipidhanin Throgam [1981]
Mudalil Iravu Varum [1985]
Aadhavan Sirukadhaigal- Complete collection
Plays
Novellas
Iravukku Mun Varuvadhu Maalai
Siragugal
Meetchiyai Thedi
Ganapathi Oru Keezhmattathu Oozhiyan
Nadhiyum Malayum
Penn, Thozhi, Thalaivi
Novels
Kagitha Malargal [1977]
En Peyar Ramaseshan [1980]
Translations
En Peyar Ramaseshan- Russian language- Vitaliy Furnika
Links
Navina Tamizhilakiya Arimugam - Jeyamohan
‎
---
✅Finalised Page