A. Vennila
From Tamil Wiki
இந்தப் பக்கத்தை தமிழில் வாசிக்க: அ. வெண்ணிலா ‎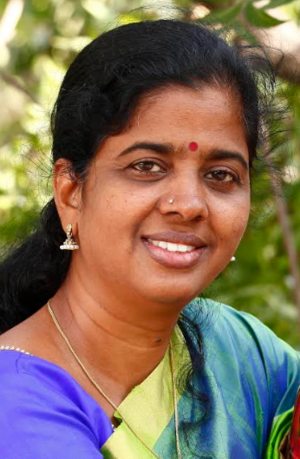 A. Vennila (August 10, 1971) is a poet, novelist, short story writer, publisher and editor of literary magazine. She has compiled historical books and also has published historical texts. She has a communist and feminist outlook. A. Vennila works as a teacher in a Government school.
Birth, Education
A. Vennila is the only daughter of C. Ambalavanan and Vasantha from Ammayapattu village near Vandavasi, Tiruvannamalai district. She was born on August 10, 1971.
A. Vennila studied in the Ammayapattu Panchayat Union's school until 5th standard. From 6th standard till her teacher training graduation, she studied in the Government Girls High School, Vandavasi. After doing her post graduation in Psychology and Mathematics, she completed her research and doctorate in the topic Devadaasigalin kalaithiranum aalumayum (The artistry and personality of Devadasis).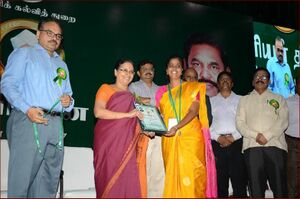 Private Life
On April 5, 1998, A. Vennila married M. Murugesh, a writer of children's literature in Tamil. The couple have three children - M.V Kavinmozhi, M.V. Anbubharathi, M.V. Nilabharathi. Currently A. Vennila is working as a graduate teacher in Mathematics in her alma mater Government Girls High School in Vandavasi. She is the recipient of Best Teacher award from Tamil Nadu Government in the year 2017.
Literary Life
A. Vennila wrote her first work in 1997. She cites Thi. Janakiraman, Kandarvan, Prapanchan as the pioneers who significantly influenced the Tamil literary creations over time. A. Vennila's Gangaapuram novel is written based on the life of Rajaraja Cholan and Rajendra Cholan . The novel is based on the internal struggles of a son who tries to establish his individuality while living under the shadow of his father. The history is narrated from the perspective of women.
In the collection of short stories, Meetham Irukkum Sorkal, A. Vennila has compiled short stories of women writers in the Tamil from over a period of 85 years, covering the works of many writers from Ramamritham Ammayaar to Kavitha Sornavalli. A. Vennila's Salaampuri novel talks about the minds and personalities of the grassroot workers of the Dravidian parties and the complications and challenges they face from their families.
Historical Research
A. Vennila has written a book Vandavasi Por[1] - 250 jointly with Dr. M. Rajendran. She has also complied Indhiya Sarithira Kalanjiyam[2] in 8 volumes, P. Sivanadi (Indian historical encyclopedia by P Sivanadi) and Anandarangam Pillai Dinappadi Seithi Kurippu (12 volumes) (The Private Diary of Ananda Ranga Pillai)
Literary Significance
A. Vennila has a communist outlook. She writes fiction and essays from a feministic viewpoint. Her novels approach history in a Marxist, feministic perspective. A. Vennila brings out the internal world of women in her poems. She writes the truth as it is in her works. She subtly highlights many issues in the society that the Tamil society would not be proud of. "All issues have been approached and criticized by her from the perspective of a practical and pragmatic life, without any feministic cries or clichés" says Tamil writer Imayam[3].
Awards
Sirppi Arakkattalai Virudhu
Kavingar Devamagal Arakkattalai Virudhu
Selvan Karki Virudhu given by Tamilnadu Murpokku Ezhuthaalar Sangam ( Tamilnadu Progressive Writers and Artists Association)
Aelaathi Arakkattalai Virudhu
Sakthi Virudhu - 2005, given by Tirupur Madhya Arima Sangam
Sirandha Ezhuthalar Virudhu given by Neyveli Puthaga Kankaatchi
A. Vennila's Poem book "Kanavai Pola Maranam" received the Best Modern Poetry book in 2007 given by Department of Tamil Development under the Tamilnadu Government
Seyanthan Ninaivu Kavithai Virudhu 2010
Puthumaipithan Ninaivu Virudhu 2013 given by Tamilnadu Murpokku Ezhuthaalar Sangam ( Tamilnadu Progressive Writers and Artists Association) for her short story collection - Bridhavum Ilam Paruvathu Aangalum.
Awards received for her novel Gangaapuram:

Rangammal Ninaivu Virudhu given by Kovai Kasthuri Srinivasan Arakkattalai
Padaipookka Thamizh Virudhu given by Samayapuram S.R.V school
Ilakkiya Virudhu given by Aval Vikatan
Puthumai Pithan Padaipilakkya Virudhu 2021 given by S.R.M. University's Tamil Peraayam
Cinema
A. Vennila has written dialogue and assisted in direction of Tamil movie Sagunthalavin Kaathalan[4]. She has also written the songs for two Tamil movies
Works
Poetry
En Manasai Un Thoorigai Thottu
Neeril Alaiyum Mugam
Aathiyil Sorkal Irunthana
Isaikkurippugal Niraiyum Maithaanam
Kanavai Poloru Maranam
Iravu Varaintha Oviyam
Drogathin Nizhal
Eriya Thuvangum Kadal
A. Vennila Kavithaigal (Thernthedukkappatta Kavithaigal Thoguppu)
Letters
Essays
Pen Ezhuthum Kaalam
Thadhumbi Vazhiyum Maounam
Kambalai Mudhal (Jointly with Dr. M Rajendran)
Therdhalin Arasiyal
Arupadum Yaazhin Narambugal
Engirunthu Thodanguvathu
Maranam Oru Kalai
Short Story
Pattuppoochigalai Tholaitha Oru Pozhuthil
Brindhaavum Ilam Paruvathu Aangalum
Indhira Neelam
Research
Devaradiyaar: Kalaiye Vaazhvaaga
Novel
Compiled Books
Vandavasi Por - 250 (Jointly with Dr. M Rajendran I.A.S
Nizhal Mugam
Meedhamirukkum Sorkal
Kaalathin Thirai Seelai Trotsky Maruthu
Kanavum Vidiyum
Publications
Indhiya Sarithira Kalanjiyam (8 Thoguthigal) P. Sivanadi
Ananda Rangam Pillai Dinappadi Seithi Kurippu (12 Thoguthigal) (Jointly with Dr. M. Rajendran I.A.S
References
Links
‎
---
✅Finalised Page