A. Poovaragam Pillai
From Tamil Wiki
இந்தப் பக்கத்தை தமிழில் வாசிக்க: ஆ. பூவராகம் பிள்ளை ‎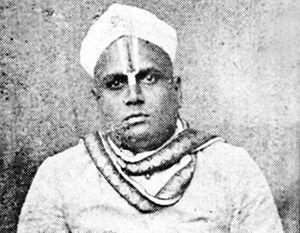 A. Poovaragam Pillai (November 27, 1899 – May 28, 1973) was a Tamil scholar, grammarian, and an editor. He published Tholkappiyam in 1954.
Private Life
A. Poovaragam Pillai started his career as a Tamil teacher at Ramasamy Chettiar Town Higher Secondary School in Chidambaram. Afterwards, Poovaragam Pillai worked as a lecturer in Annamalai Arasar College and as a Tamil professor at Annamalai University.
Literary Life
A. Poovaragam Pillai wrote simple texts for many difficult sections of Tholkappiyam Soladhikara Senavaraiyam and published it as a book Senavaraiyar Urai Vilakam (Senavaraiyar Text Description). In this book, Poovaragam Pillai explained the meaning of each Noorpa (a verse meter) in a simple way.
Awards
In August 16,1930, A. Poovaragam Pillai received an award from Kasimadam for his grammar erudition.
Death
A. Poovaragam Pillai passed away on May 28, 1973.
Books
Senavaraiyar Urai Vilakam
Thiruvoimozhi Vilakam
Thirumangai Alvar Periya Thirumozhi
Puzhavar Perumei
Reference
‎
---
✅Finalised Page