A. Balamanogaran
From Tamil Wiki
இந்தப் பக்கத்தை தமிழில் வாசிக்க: அ. பாலமனோகரன் ‎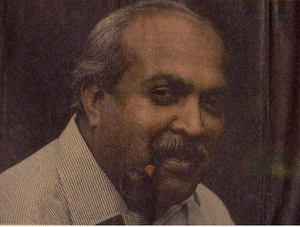 A. Balamanogaran(Born: July 7, 1942) is a Tamil scholar from Eelam. He is a notable writer, teacher, translator, and painter in Eelam. His novel Nilakili won the Sahitya award in 1973. He writes under the pen name Elavazhagan.
Early years, Education
A. Balamanogaran was born on July 7, 1942 to Annamalai from Thanneer Ootru village in Mullaitivu district, Sri Lanka. He studied at Jaffna College, Vaddukoddai. He started teaching in 1962 at Andankulam Arasinar Tamil Kalavan Padasalai. He underwent special training in English in Palaly Kalasalai.
Personal Life
In 1967 he worked as a teacher in Mutur Muslim Maha Vidyalaya . He worked in Mulliyawalai Vidyananda College. He emigrated to Denmark in 1984.
Literary Life
When A. Balamanogaran was a teacher in Mutur he got introduced to eminent writer V.A. Rasaratnam. V.A. Rasaratnam sent A. Balamanogaran's first story "Malargal Nadapathillai" to Raja Ariyathinam, an editor of Chintamani, a weekly magazine of Thinapathy dailies. This story got published under the pen name Elavazhagan. He continued to write in Chintamani. He became closer to Raja Ariyathinam .
During the rule of Sirimavo Bandaranaike, Tamil Nadu magazines were banned from being sold in Sri Lanka. To bridge this gap, Ezhakesari Magazine started to publish novels every month, and the famous novel Nilakili got published in the year 1973. It got the Sahitya Mandalaya award for the best novel of the year. His serial novel Vanna Kanavugal was published in Mithran magazine. Vattampoo is another novel that was released as a serial on the Appaltamil website.
His short stories were played as radio dramas on Sri Lanka radio. His stories were translated and published in Weekend a weekly English magazine.
He has translated many books into English and Danish. He translated Murugar Gunasingam's Sri Lankan Tamil Nationalism A Study of Its Origins book in Tamil. He also wrote a Danish-Tamil Dictionary.
Paintings
Another facet of this writer is paintings. Due to his love of nature, his watercolor paintings are often nature-based.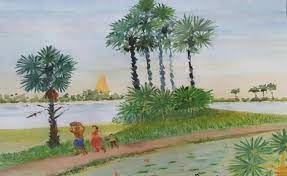 Literary Significance
In an environment that constantly published novels centered on political views and popular literature, A. Balamanogaran's Nilakili emerged as an alternate in Eelam literature and received accolades among literary critics. Like Bibhutibhushan Bandopadhyay's Vanavasi, it is nature-centric and a visual novel.
Books
Novel
Nandhavathi
Thaaivazhi Thaagam
Nilakili (Veerakesari Publications)
Kumarapuram (Veerakesari Publications)
Kanavugal Kainthapothu (Veerakesari Publications)
Vannakkanavugal
Vattampoo (Published online)
Short story collections
Naval Maram (Danish language)
Dheebathoranangal
Others
Danish - Tamil Dictionary
Vattampoo
Other Links
References
‎
---
✅Finalised Page