A. Arivunambi
From Tamil Wiki
இந்தப் பக்கத்தை தமிழில் வாசிக்க: அ. அறிவுநம்பி ‎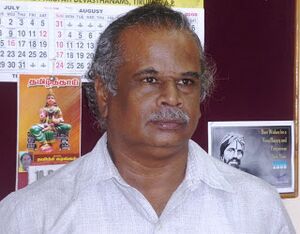 Arivunambi (November 10, 1952 - April 09, 2017) was a Tamil professor and researcher, who had written several books on Therukoothu, classical Tamil poetry and Tamil language.
Birth, Education
Dr. A. Arivunambi was born on November 10, 1950, in Karaikudi, Sivagangai District, to professor P. Amirthalinganar and Ramalakshmi Ammaiyar. He finished his primary education at Subash Nagar Municipal Nursery & Primary School, Karaikudi and attended the SMSV High School in Karaikudi from the sixth to the twelfth grade. Kaviyarasu Mudiyarasan and poet A. Pazhani were his teachers in high school.
He studied an introductory course at Alagappa University, Karaikudi; from where he obtained his Bachelor's degree in Science (Mathematics) and also his Master's in Tamil Literature, in 1976. In 1980, he received his doctorate from Madurai Kamaraj University for his research on Therukoothu (street theatre) in Tamil Nadu.
Personal Life
The ancestors of Dr. A. Arivunambi were poet laureates at the Ramanathapuram Palace and they wrote many sitrilakkiyam style verses on King Sethupathi. Many of these verses, including Viralividu Thoodhu and Kandha Varukka Sandha Venba on King Sethupathi are attributed to an author named Saravana Perumal.
Poet Saravana Perumal was Dr. A. Arivunambi's great grandfather. His son's name was Poovarsamy whose son, and Dr. A. Arivunambi's father Prof. P. Amirthalinganar, retired as a Tamil Professor at Alagappa University, Karaikudi. Valluvar Kanda Uyirinangal, Kamban kaviyarangil Malaramudhan and Karutthum Karpanaiyum are some of the books written by Prof. P. Amirthalinganar.
Academic Work
Dr. A. Arivunambi worked as a Tamil lecturer at the Madurai Kamaraj University, from 1981 to 1986. From 1986 to 1997, he served as an Associate Professor at the Pondicherry University. Later, he served as Professor, Head of Department, Director and Dean at the Pondicherry University.
Awards
Kambavaanar Parisil
Sirandha Ulaga Maandhan Award (1999)
Tolkappiyar Award (Pondicherry Government)
Islam Tamizh Illakiya Kazhaga Tamizhmaamani Award
Books
Koothum Silambum (1977)
Tamizhagathil Therukoothu (1986)
Naatupura Kalangal (1989)
Tamzharin Vazhipaatu Sindhanaigal (1990)
Tamizhar Marandha Tamizh Marabugal (1991)
Pavendharin Panmugangal (1992)
Tamizharin Deiva Neri Sindhanaigal (1993)
Illakiya Vithagangal (1994)
Tamizh Valarchi Sikkalgalum Theervugalum (1995)
Valartamizh Kalangal (1996)
Kambarin Ariviyal (1997)
Palthurai Tamizh (1998)
Kambarkaatum Mallar Maanbu (1999)
Pulligal (Kavidhai Nool, 2000)
Illakiyangalum Uthigalum (2001)
Tamizhiyal Sindhanaigal (2002)
Sentamizh Semmalgal (2003)
Illakiya Nokugal (2004)
Silambin Edhirkural (2005)
Porul Pudhidhu (2006)
Illakiya Thalangalil (2007)
‎
---
✅Finalised Page