A. A. Manavalan
From Tamil Wiki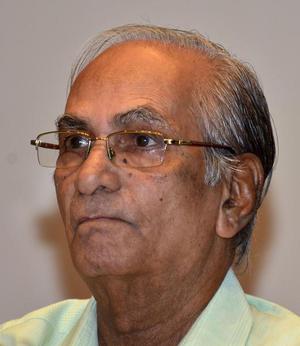 இந்தப் பக்கத்தை தமிழில் வாசிக்க: அ.அ.மணவாளன் ‎

A. A. Manavalan (1935 - December 1, 2018) was a Tamil Scholar. A. A. Manavalan was also proficient in English and Hindi languages. He published prints of Tamil Classic literature and wrote commentary on them.
Birth & Education
A. A. Manavalan was born in 1935 at Arumbarapattu, Vilupuram District to Telugu poet Appavu and Athilakshmi Ammaiar. After completing his schooling, he graduated from Perur Santhalinga Sami Arts College with a degree in Tamil Literature. He also completed M.A. English Literature in Jamal Mohamed College, Trichy.
He earned PhD degree in English literature for his doctoral dissertation Epic Heroism in Milton and Kamban.
Personal Life
A. A. Manavalan is survived by his wife Saraswati, sons Srinivasan (46), Jaganmohan (45) and daughter Brinda (52). After working at Pachaiyappa's College , Kanchipuram and later at the World Tamil Research Institute, he joined the Department of Tamil at the University of Chennai to work on the Tamil-English Dictionary Program. 12 of his books about Literary Theories and Critiques were published, he has also translated four books and edited five books. He has written over a hundred articles in Tamil and English. Apart from working in various Universities of Tamil Nadu, he has also been a distinguished Professor in six universities in the United States. He retired from the post of Professor and Head of Department at University of Chennai.
Literary Life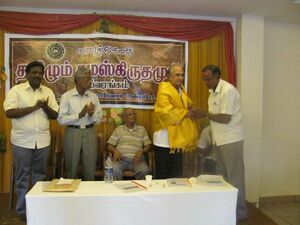 A. A. Manavalan is a notable figure in Tamil literary research, especially on Comparative Literature. He was given Fulbright Honarary fellowship for comparative literature at Indiana University which is well known for Comparative Literature. He also studied Comparative Literature in Chicago, Columbia and South Carolina Universities. He was trained on the methods of Comparative Literature by the leading scholars of Indiana University Ulrich Weistein & Henry Remak. He has studied Epics in World Literature , literary genres and researching literary periods in New York University. He learned the need to take the cultural aspects into account when doing research on literary genres and also understood the importance of Anna Balakian in this regard.
A. A. Manavalan's work as the commentator of the Kambaramayana texts of the Coimbatore Kamban Aranilaiyam is noteworthy. The Kambaramayana edition of the Foundation contains a very detailed research paper written by A.A. Manavalan comparing Kambaramayana with other Ramayanas. He has researched about 40 Ramayana texts and explained their similarities, contradictions and omissions, in addition to that the specific article had been produced meticulously by comparing old folk songs (from languages like Hindi). Jeyamohan quotes "The best edition of Kambaramayanam for now is the one published by Coimbatore Kamban Aranilaiyam. Editor-in-Chief A.S. Gnanasampanthan, commentator A .A. Manavalan."
A. A. Manavalan had written two books titled World Tamil Literature, History - BC 901 to BC 1300 (2006) & Literature Theories of Twentieth Century (1994). He had compiled a large volume of Tamil devotional literature for Sahitya Akademi and also wrote the preface.
Saraswati Samman award given by K.K. Birla Group as awarded to A. A. Manavalan in 2005 for his Research compilation Rama Kathaiyum Ramayanangalum, which is a comparative study of Ramayana written in 48 languages including Sanskrit, Pali, Prakrit, Tibetan, Tamil, Old Javanese, Japanese, Telugu, Assamese, Malayalam, Bengali, Kannada, Marathi, Hindi, Odia, Persian, Malay, Burmese, Thai, Laotian and Kashmiri.
He had also translated Tholkappiyam into English. (See Translators of Tholkappiyam)
Demise
A. A. Manavalan passed away on December 1, 2018.
Literary Space
A. A. Manavalan's has done literary research with a traditional academic approach. He has presented his research based on globally accepted methods with detailed data collection. They have no cultural individuality or stimuli for further thinking. Only on his research on the epic Ramayana his individual views are expressed. It explains some of the general trends in the re-telling of the Ramayana from time to time.
Awards
To.Po. Meenakshi Sundaram Pillai Century Award
Saraswati Samman Award - 2012
Tamil Nadu Government Kabilar Award - 2012
Books
Tholkappiya Porulathigaram: Agathinai Iyal - Purathinai Iyal (1998, 2005)
Ilakkiya Oppaivu: Sanga Ilakkiyam
Ilakkiya Oppaivu: Kappiyangal (2005)
Ulakatamililakkiya Varalaru (KIPI. 901 - 1300)
Irubatham Nootrandin Ilakkiya Kotpadugal (1995, 2002)
Aristatilin Kavithaiyiyal (1976, 1982, 1991, 2001)
Irama Kathaiyum Iramayakalyum (2005, 2012)
Bothanar (Mozhipeyarpu, 1981, 1992)
Epic Heroism in Milton and Kamban (1984)
Ravindranath Tagoor (Mozhipeyarpu, 2000, 2004)
Tamil Bakti Ilakkiyam (2004)
Mutual Flames (essays in comparison, 1977)
Tamil Research Through Journals (annotated bibliography, 1975)
References
Related Links
‎
---
✅Finalised Page