M. Subramoniam
From Tamil Wiki
இந்தப் பக்கத்தை தமிழில் வாசிக்க: மா. சுப்பிரமணியம் ‎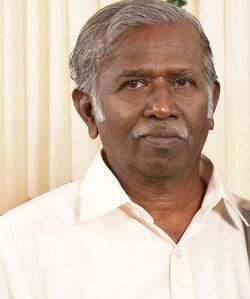 M. Subramoniam (M. Subramonia Pillai) (25 May 1953 - ). He is an English professor and translator from Nagercoil. He served as a lecturer and Head of Department of English at South Travancore Hindu College, Nagercoil. He has translated many important works. He has participated in folklore research along with scholars like A. K. Perumal.
Youth, Education
M. Subramoniam was born on May 25, 1953 in Azhagiapandiyapuram, Kanyakumari, to Mathevan Pillai and Valliyammal. Mathevan Pillai worked at various estates in the Kanyakumari district.
M. Subramoniam studied in Azhagiapandiyapuram till the 9th grade and finished his schooling in Nagercoil. He graduated in botany from Arignar Anna College, Aralvaimozhi. Drawn to the English language, he obtained an MA degree in English at South Travancore Hindu College, Nagercoil and went on to complete an M.Phil degree in the language at Manonmaniam Sundaranar University. He also obtained a Masters in Mass Communication at Madurai Kamaraj University, Madurai. He got his PhD from Tamil University, Tanjore.
He also has a diploma in journalism and Indian culture.
Personal Life
M. Subramoniam is married to Rajeswari. They have two sons; one works for Dinamalar, a Tamil daily and the other works in the IT sector.
M. Subramoniam and his family currently live in Nagercoil.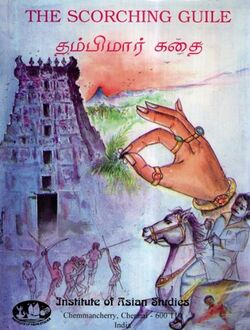 Contributions as a Translator
As an educator, M. Subramoniam has coordinated and participated in many seminars on translation and public relations. He later collaborated with cultural anthropologists and historians in research initiatives.
Thambimar Kadhai, a famous Tamil story in the Kumari district, was written by M. Subramoniam's teacher, A. K. Perumal. In 1999, M. Subramoniam translated the story into English. It was published under the title 'The Scorching Guile' by the Institute of Asian Studies under G. John Samuel's editorship.
In 2004, M. Subramoniam translated an English book about Narayana Guru (written by K. Srinivasan), into Tamil. Tamilini published this book with a foreword by writer Jeyamohan.
Other Work
M Subramoniam wrote about one of the phases in the history of Tamil literature, for the Central Institute of Indian Languages, Mysore.
He and his family ran a little magazine titled Nandhavanam for two years. Apart from literature and art, Nandhavanam carried topics of common interest as well.
M. Subramoniam helped compile the discussions in the literary gatherings conducted under the banner 'Meendum Kakangal' for the Kalachuvadu magazine run by Kannan Sundaram (writer Sundara Ramaswamy's son). He conducted interviews for Solpudidhu magazine published by Jeyamohan and his friends.He wrote synopses for research initiatives of M. Vedasagaya Kumar, undertaken for the University Grants Commission.
Bharathi Press, run by M. Subramoniam's brother was responsible for bringing out issues of the Kalachuvadu magazine. During that period, M. Subramoniam assisted in publishing contemporary literature through the press.
M. Subramoniam continues to work in the field of education, acting as an advisor to doctoral students not only in Kanyakumari but across Tamil Nadu.
Works
Translations
The Scorching Guile (Translation of Thambimar Kadhai by A. K. Perumal), Institute of Asian Studies, Chennai, 1999; Editor, G. John Samuel.
Narayana Guru (K. Srinivasan in English), Tamilini Publications, 2004.
References
National Seminar on Translating Sangam Classics: Problems and Solutions, Department of English, ST Hindu College, Nagercoil, 23 to 25 Feb 2011, Central Institute of Classical Tamil, Chennai
Cascade of Reflections (Translation & Literature), Department of Translation, Tamil University, Thanjavur, Sep 2013
Views on News, Prof LC Thanu (Sub-editor: M Subramoniam), Hindecon Publications
Links

‎
---
✅Finalised Page