Amirtha Gunabodhini
From Tamil Wiki
இந்தப் பக்கத்தை தமிழில் வாசிக்க: அமிர்த குணபோதினி ‎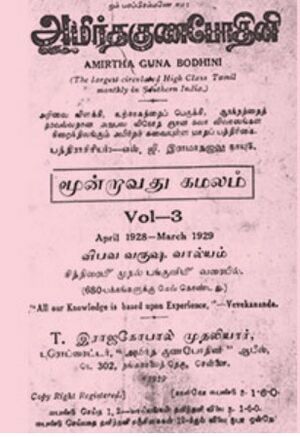 Amirtha Gunabodhini (1926 - 1940) was a multifaceted Tamil journal. S. G. Ramanujalu Naidu was its editor.
History
In 1926, S. G. Ramanujalu Naidu became the editor of the Anantha Gunabodhini magazine started by T. Rajagopal Mudaliar. It was started in competition to Ananda Bodhini magazine. Anantha Bodhini had gained popularity by publishing serialised works of Arani Kuppusamy. Nagavedu Munusamy Mudaliar, the owner of Ananda Bodhini, filed a case against Anantha Gunabodhini citing that the latter's name and design resembled his magazine. The verdict came in Mudaliar's favour. So, Ananda Gunabodhini altered its form and changed the name to Amirtha Gunabodhini.
S. G. Ramanujalu Naidu himself penned several sections of the magazine, including the children's column, women's column, 'last month' and pathrikacharam (magazine guidelines). He authored humorous tales and comics under the name Kathapirasangi. He wrote all columns except a few which were written by Maral Karthikeya Mudaliar, Ariyur V Padmanaba Pillai and a few others. Amirta Gunabodhini published J. R. Rangaraju's novels. In 1934, when Amirtha Gunabodhini was sold to Gopalakrishna Kon, conflicts arose between the two. S. G. Ramanujalu Naidu left the magazine. After his departure, J. R. Rangaraju's novels were serialised in the magazine. Many books were published by Amirtha Gunabodhini press. In 1940, the magazine stopped publishing.
Links
‎
---
✅Finalised Page