Suchitra
From Tamil Wiki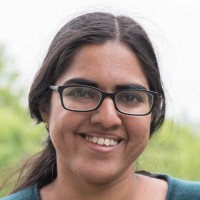 இந்தப் பக்கத்தை தமிழில் வாசிக்க: சுசித்ரா ‎

Suchitra (Suchitra Ramachandran) (December 16, 1987) is a Tamil writer and translator. Suchitra writes short stories, literary reviews and translates between Tamil and English. Suchitra raises fundamental questions of existentialism in artistic and scientific contexts in her writings. Her short story Oli (Light), which talks of life from the perspective of a European painter, was well received by readers and critics.
Birth, Education
Suchitra was born to Ramachandran and Janaki on December 16, 1987 at Mylapore in Chennai. She was named Kodhai when she was born. Suchitra attended schools in Coonoor, Chennai, Vijayawada, Hyderabad and Madurai, and completed her schooling from T.V.S. Lakshmi Higher Secondary School, Madurai. Afterwards, Suchitra completed her engineering course at Kamaraj College, Virudhunagar.
Suchitra subsequently earned a doctorate in neuroscience. She studied the ability of brain to extract patterns from its environment (statistical learning) at Carnegie Mellon University, Pittsburgh, USA.
Private Life
Suchitra married Varun, a scientist, on June 1, 2014. They have a son, Rakendu. Suchitra works as a scientist in a research laboratory in Switzerland, where she currently lives there with her family.
Books
Suchitra quotes pioneers Ki. Rajanarayanan, Jayakanthan, Jayamohan, Ursula Le Guin and Isak Dinesen as her inspirations in literature. Her first work Kudai (Umbrella), a short story, was presented and discussed at the readers meet organized by Vishnupuram Readers Circle in 2017. This story was not published anywhere. Suchitra also writes science fiction stories. Siragathirvu, the first of her stories to be published (Padhaakai magazine, 2017), also belonged to this genre.
Speaking about her stories in the foreword to the Oli collection, Suchitra mentions that 'I feel myself, not only in the tradition of my language but also in the great tradition that is man's quest to make sense of the cosmic space through stories. Morals and valour, fury, grace, kindness and humanity, penance, beauty and the almighty - all happened through the story'.[1]
Translation Works
Suchitra translated Jeyamohan's short story Periamma's Sorkal into English as Periyamma's Words. It was published in the Asymptote magazine in 2017[2]
She translated A. Muttulingam's Aattupal Puttu (Goatmilk Puttu) to English. It was published in the Narrative magazine[3]
She also translated Jeyamohan's Devaki Chithiyin Diary (Devaki Chiti's Diary)[4]
Literary Significance
Among Suchitra's works, the stories that exhibit a sprit of fundamental philosophical enquiry, gained prominence. Suchitra uses scientific symbolisms to carry out such inquiries in science fiction. Suchitra is one of the prominent writers spearheading the revival of science fiction in Tamil. Speaking on today's science fiction, Suchitra says, "By shedding their rigidity, the science fiction stories of today attempt to transcend boundaries and stand as pure stories".[5]
While Suchitra's style has a 'storytelling' dimension to it, her stories do not stop at being playful and instead, go on to raise important questions, such as, the contradiction between art and science, the resulting conflict, what art gives to man, and how society and state instill a sense of fear into individuals, etc., says critic Priyamvada[6]
Awards
2017 - Asymptote Close Approximations translation fiction prize in for her translation of the Tamil short story Periyamma's Words by B. Jeyamohan
2020 - Young Writer Award from Vasaga Salai for her short story collection Oli
Publications
Oli (2020, Yavarum Publishers)
References
Links
‎
---
✅Finalised Page