Santhosh Saravanan
From Tamil Wiki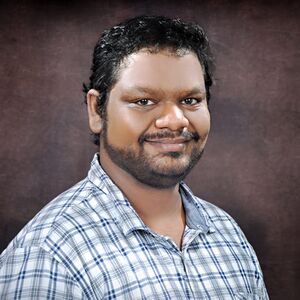 Santhosh Sarvanan (2 June 1992) is a coordinator of the Tamil Wiki encyclopedia. He also looks after the functioning of the Vishnupuram Literary Circle and its websites.
Birth, Education, Work
Santosh was born in Tambaram, Chennai to the couple Saravanan and Malathi on 2 June 1992. He has a sister, Nandini. Santosh's family is from Purisai village (in the Cheyyur taluk of Tiruvannamalai district), well known for the folk art form of Therukoothu.
Santhosh studied across Kerala, New Delhi and Chennai. He obtained a B.Tech degree in Information and Telecommunications and an M.B.A. from Bharathidasan Institute of Management, Tiruchirapalli. He worked in the finance sector.
He later completed an MA in Philosophy, Religion and Culture from Annamalai University and MSc in Counselling Psychology from University of Madras.
He has engaged in social work through many volunteer organisations, and currently works full-time with Bhumi, a Chennai based volunteer organisation.
Work as a Coordinator
For many years past, he has been part of the team that oversees writer Jeyamohan's website. He has also participated in the varied initiatives of many of the Vishnupuram Literary Circle members and assisted in organising their events and activities.
He participates in the coordination of the Tamil Wiki project's long-term planning, its content creation and technical management.