Arasakesari
From Tamil Wiki
இந்தப் பக்கத்தை தமிழில் வாசிக்க: அரசகேசரி ‎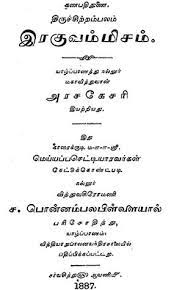 Arasakesari (1478-1519) (Padalarasan Arasakesari Pandaaram) was a translator, orator, and a classical poet from Jaffna, who wrote sittrilakkyam (minor literature) poetry. He was fluent in Tamil and Sanskrit. Raguvamisam, translated from Sanskrit by him, is a notable work.
Biography
He was born in 1478 in Nallur, Jaffna. He was a nephew of King Pararsekhara Chakravathi, who ruled over Nallur and the uncle of King Arya Chakaravathi (1591-1616), who ruled Ethirmannasingam, also known as Yazhpanam. He married Maragathavalli, daughter of Valliammai, who was a descendant of Tirunelveli Pon Parriyur Pondy Mazhavan, and the second wife of King Pararasasekara.
Literary Life
He knew Tamil and Sanskrit and was knowledgeable in classical Tamil poetry. He translated Raghuvaṃśa, written by Kalidasa, from Sanskrit to Tamil, titled Raguvamisam. It contains 2404 verses.
In 1887, Arasakesari wrote a special payiram (poetic prologue) on Datchina Purana, published by Karaitheevu Ka. Siva Chidambara Iyer in Chennai. Araskesari was proficient in Agananooru, Silapathigaram, and Manimegalai.
Special Mention
The region where he had lived in Jaffna is now called Arasakesari Valavu, near Yamuna Eri (Lake) in Nallur.
Works
Raguvammisam
Datchina Purana (special poetic prolouge)
Arasakesari Virudhu
References
Dictionary of biography of the Tamils of Ceylon, 1997 (compiled by S. Arumugam
Eela Nattin Tamil Sudar Manigal - Thenpoliyur M. Ganapathipillai
Sitrilakkiya Pulavar Agarathi : Na. Vi. Jeyaraman
‎
---
✅Finalised Page