Thiruvarangan Ulaa (novel)
From Tamil Wiki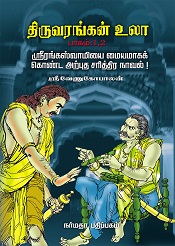 இந்தப் பக்கத்தை தமிழில் வாசிக்க: திருவரங்கன் உலா ‎

Thiruvarangan Ulaa is a Tamil historical novel. A work of popular fiction, it was authored by writer Sri Venugopalan. The story is set against the background of Muhammad Bin Tughlaq's invasion and sack of Thiruvarangam [Srirangam]. The first part of this novel is published under the title Thiruvarangan Ulaa and the second part under the title Madhura Vijayam. During the sack of Srirangam, the Vaishnava priests of the Ranganathaswamy Temple removed the festival idol [urchavar] from the temple's premises and travelled all over South India with it seeking protection. They brought it back to Srirangam only when the Nayakkas took over the town again. This bit of history is depicted in this novel.
Historical Background
When Muhammad Bin Tughlaq invaded South India in 1326 CE, his army sacked the Ranganatha Swamy temple at Srirangam. The Vaishnava acharyas, priests and the people struggled to protect the temple. They concealed the temple's treasures and the idols of deities from the invading armies. The festival idol figurine (urchava perumal) of Ranganatha Swamy was taken to Thirukoshtiyur, Kalayarkoil and Azhagar Malai, and eventually made its way to Tirupati, where it was kept hidden in great secrecy. Then in 1371 CE, the figurine was brought back to Srirangam. Accounts attesting to these events can be found in texts like Srirangam Koil Ozhugu (two parts) and Namperumal Vanavasam by Vaishnavashri Krishnamachari.
Conception, Publication
Sri Venugopalan writes about how he found the spark to write this novel in the foreword to the 2002 edition of the book. When he was browsing through Dr. Krishnaswami Aiyangar's South India and her Muhammadan Invaders at the Connemara Public Library, he found a reference in the book to an older book called The Sack of Srirangam. Intrigued, he delved into further research about the period that resulted in the writing of this novel.
Thiruvarangan Ulaa was serialized in Dinamani Kadir in 1978. After a few years, the second part appeared in the same newspaper. Later, they were published as books.
Literary Merit
Thiruvarangan Ulaa is a work of popular historical fiction based on a real historical incident. It has elements of adventure and mystery common to the popular historical fictions of that period. The tradition of popular Tamil historical fiction is heavily inspired by the works of Alexander Dumas and Sir Walter Scott, and is usually centered around a heroic protagonist. However, the story of Thiruvarangan Ulaa is built entirely around the historical incident, which sets this novel apart from the other novels of this genre. Historical personalities like the Vaishnavite teachers, Vedanta Desika and Pillai Lokacharya, appear as characters in this novel.
Links
https://archive.org/details/ThiruvaranganUlaa/ThiruAranganUlaa_Part1/ ‎
---
✅Finalised Page