Oru Manithanin Kathai (Novel)
From Tamil Wiki
இந்தப் பக்கத்தை தமிழில் வாசிக்க: ஒரு மனிதனின் கதை ‎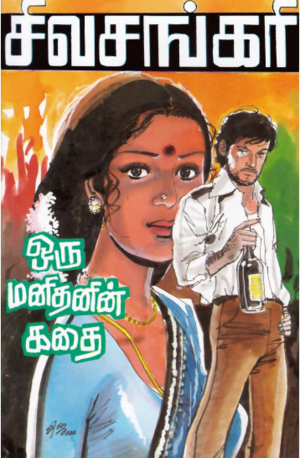 Oru Manithanin Kathai (1980) is a novel written by Sivasankari. Depicts the regression of alcoholism into a disease that destroys a man's life and his recovery from it. Sivasankari has said that this is the life story of a real self-realized person. A work that created awareness about drunkenness in Tamil.
Writing, Publication
Oru Manithanin Kathai by Sivasankari was serialized in Ananda Vikatan Weekly in 1980. Published as a book in 1982 by Vanathi Publishing House.
Synopsis
Thiyagu, a young man living in a family environment without major problems, starts drinking for fun, which turns him into an addict, an alcoholic and destroys his life. With the help of a friend, he recovers and falls back into drinking. He is saved by some members of the anti-drinking organization Alcoholics Anonymous and starts life again.
Movie Version
Oru Manithanin Kathai Awan was serialized in 1987 by Doordarsanan Chennai station with the name 'Avan' and became a huge success. Raghuvaran played as Thiyagu.
Then in 1990, the story was released as a movie under the name Thiyagu starring Raghuvaran under the direction of S.P. Muthuraman and produced by AVM.
Literary Significance
Oru Manithanin Kathai is said to be the book that created an awareness in Tamil Nadu against drinking. Stories such as Devdas (Sarachandra Chatterjee) that exaggeratedrinking with a romanticized utopian tone abounded in the literary world. This is a novel that establishes that drinking is not a transgression or immorality, but a disease. It also has a promising conclusion.
References
‎
---
✅Finalised Page