Kanavu Thozhirchalai
From Tamil Wiki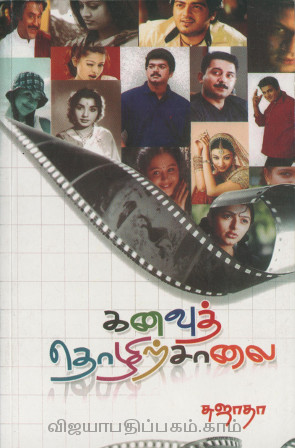 இந்தப் பக்கத்தை தமிழில் வாசிக்க: கனவுத்தொழிற்சாலை ‎
Kanavu Thozhirchalai (1979) is a novel written by Sujatha. It discusses the film industry from many perspectives.
Publication
In 1979, Ananda Vikatan published Kanavu Thozhirchalai, a fiction series by Sujatha. The novel was set on the film industry.
Synopsis
Kanavu Thozhiarchalai revolves around the character Arun, a top-rated actor. He marries his love interest Premalatha. After some time, he divorces Premalatha because of her extramarital affair. His popularity begins to fade. He begins to produce films but runs into financial and practical difficulties. The film industry and the people start anticipating the fall of the star. There were many branching stories. Manonmani dreams of becoming a film actor but ends up a prostitute. Arumairasan transitions from begging to being a lyricist then becoming a drunkard. Kanavu Thozhirchalai contains many such interesting characters. It provides a complete picture of the film industry.
Literary Significance
Kanavu Thozhirchalai is fully based on the film industry. Ashokamitran wrote Karaintha Nizhalgal in the context of the film industry. With a similar backdrop, Jeyamohan wrote Kanniyakumari. Rather than focusing on suspense and thrill, Sujatha emphasizes the rise and fall in the people in film industry in this novel. It gets special attention for examining movie viewers' love for movie artists at the same time their natural jealousy in parallel about their success.
Links
‎
---
✅Finalised Page