Kamalam
From Tamil Wiki
இந்தப் பக்கத்தை தமிழில் வாசிக்க: கமலம் ‎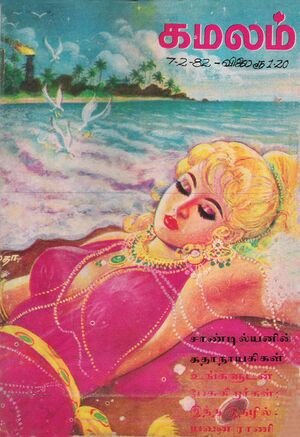 Kamalam (1982) was a weekly magazine started by Chandilyan to exclusively publish his stories.
Magazine History
Kamalam magazine came out in the year 1982 at a price of one rupee and twenty paise. Chandilyan quit as the editor of the magazine after just a few issues. After that, Irugooran was the editor of the magazine for a few issues before it was discontinued.
Content
In the magazine, a section of Chandilyan's heroines talking to their readers came out and caught the attention of the readers. The novel Kadal Neeli by Chandilyan, which appeared in the magazine in installments, was also incomplete.
Kadal Neeli was a sequel to the novel Rajathilagam. The story is centered on Rajasimma Pallavan (Narasimha II), while its protagonist is Ramanathan. After Kamalam went out of business, Chandilyan continued to write the same story in Kumudam weekly for a few weeks but he passed away before completing it.
References
‎
---
✅Finalised Page