K. Muthiah
From Tamil Wiki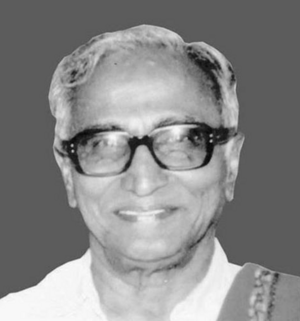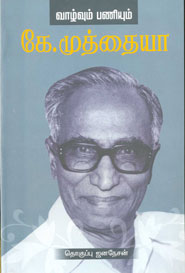 இந்தப் பக்கத்தை தமிழில் வாசிக்க: கே.முத்தையா ‎
K. Muthiah (January 14, 1918 - June 10, 2003) was one of the leaders of the Communist Party of India in Tamil Nadu. He took part in the Indian freedom struggle. A journalist, novelist, he served as honorary president of the Tamil Nadu Progressive Writers and Artists Association.
Early Life and Education
K. Muthiah was born to Karuppaiyathevar and Valliyamai on January 14, 1918 as their first child. Muthiah's father was a village munsif (a local judge) with jurisdiction over 11 villages, including Mudappulikkadu in the Peravurani village panchayat in the district of Tanjore, Tamil Nadu.
Muthiah completed his primary education in Mudappulikkadu. Since his father refused to let him study further, Muthiah continued his studies with the support of his uncle Karuppaiya Thevar and aunt Veerammal. He completed his school education at the Board Primary School in Peravurani district and later at the Board High School in Pattukottai District. He had to study while continuing to work on a farm, he writes in his autobiography.
After Muthiah came second in his high school final examinations, his father, Karuppaiyathevar wanted him to study further. They approached Nadimuthu Pillai, the leader of the Justice Party, for help. Nadimuthu Pillai gave a letter of recommendation addressed to his friend V. Chidambaram, the vice-chancellor of Annamalai University, Chidambaram. Though he joined Annamalai University, his involvement in political struggles prevented him from graduating.
Personal Life
Muthiah married Yamuna, the second daughter of Natesampillai, a railway worker in Trichy, on June 22, 1950. It was an inter-caste marriage and Muthiah's father refused to take part in the wedding. His mother and brother, however, participated and Arumugam Pillai, owner of Nehru Printers, presided over the wedding. Muthiah was then working as a full-time employee of the Janasakthi, organ of the Communist Party of India Tamil Nadu State Council. He was also in charge of the information bureau. When Muthiah was arrested in 1949, his wife Yamuna and ten other women spent a month in jail for protesting against the preventive detention of Muthiah and others.
Political Career
Student Leader
In 1932, E.V. Ramasamy Periyar delivered a speech in Patukkotai about the communist society in Soviet Union. He had just returned from a tour of the USSR. This speech inspired Muthiah to get involved in politics and he went on to participate in a toddy shop picket, in the very same year, led by the freedom fighter Veerachami Thevar, along with other students. He later took part in many protests, including the boycott of British-made clothes. He founded and presided over an 'Association of Youth from Eleven Countries' with Kuruvikkarambai (in Peravurani) as its headquarters. He held a conference for the association to which Sardar Vedaratnam Pillai, V. V. Giri, and P. Jeevanandam were invited.
Muthiah and K. Baladandayutham, attended the Congress Socialist Party's conference held at Tindivanam in 1938 with ten other students from his University. Muthiah was fascinated by the speeches of P. Jeevanadam and B. Ramamoorthy and invited them to speak at a meeting in his University. This was met with fierce opposition from the administration and K. Baladandayutham and a few other students were suspended. Following this, students went on a strike and hostels were closed. When K. Baladandayutham dropped out and took up the post of the secretary of the Communist Party's student wing. Muthiah accepted the position as its president, a post that K. Baladandayutham had held. He also served as the secretary of the university wing of the Communist Party.
Life in Hiding
R. Umanath, who came to Annamalai University in 1939 as a student, became Muthiah's friend. When they got wind that the police was planning to arrest them, the two escaped to Trichy without writing their final exams. Muthiah became involved in the activities of the railway workers' trade union in the city for some time. Meanwhile, the policediscovered the communist hideouts and arrested Mohan Kumaramangalam, B. Ramamurthy, Subramania Sharma, Keraliyan, Anumantrao, Umanath, and others who were in hiding. Later, the Party appointed Muthiah to carry out its activities in Tamil Nadu, including translating English documents into Tamil, delivering the party's letters from town to town, and providing training to student groups about communism.
Positions Held
In 1942, when the Communist Party declared its support for the British in the Second World War, the British government lifted the ban on the Party. In the same year, at Mohan Kumaramangalam's house in Tiruchengode, the party elected a new State Committee. Mohan Kumaramangalam became the state secretary of the party and Muthiah became the secretary of the Chennai district.
Imprisonment
In 1945, the Communist Party of India campaigned for the release of the soldiers of Subhash Chandra Bose's Indian National Army. On February 23, 1946, Mayandi Bharathi took part in the Muthiah-led protest in Chennai in support of the Royal Indian Navy's mutiny. On February 23, 1947, Muthiah was arrested under the Emergency Ordinance issued by T. Prakasam's cabinet and imprisoned in Vellore. In prison, his fellow inmates E.M.S. Namboothiripad and N.K. Krishnan held classes on politics. Muthiah took diligent notes of their lectures and published them in two volumes under the title Marxia Bodhanai (Marxist Teaching).
After Independence, in 1948, a government body led by Sardar Patel banned the Communist Party of India for engaging in armed insurrection following the Calcutta Declaration put forward by B.T. Ranadive. Muthiah was arrested and imprisoned.
Election
When the Communist Party of India accepted the electoral system and began to function as a political party, Muthiah contested the 1952 general election from the Adirampattinam assembly constituency and lost.
Split in the Party
When the Communist Party of India split in 1964, Muthiah sided with the Communist Party of India (Marxist).
Journalism
Muthiah ran a handwritten magazine called Sengodi (Red Flag) when the party was banned. When the Communist Party decided to re-launch Janasakthi, Muthiah was appointed editor-in-chief. He ran Janasakthi from 1952 to 1962.
In 1963, Muthiah was in charge of the Marxist Party's Theekadhir news magazine. When the party's state committee office shifted from Chennai to Madurai in 1969, the magazine too shifted its headquarters. The party launched a literary magazine, the monthly Semmalar in 1970 and Muthiah was made its editor, a role he served in from 1963 to 1990.
Progressive Writers Association
After the communist party's split, the Communist Party of India (Marxist) started the Progressive Writers Association in 1970 as an alternative to the Kalai Ilakkiya Perumandram. Muthiah ran the association along with writer K. Chinnappa Bharathi. Later, he was in charge of its leadership
Literary Work
K. Muthiah wrote a series of literary reviews and short stories for Theekadhir, a weekly supplement, and Semmalar, a magazine. He had deep faith in the aesthetics of socialist realism and he studied Tamil classical literature from this point of view. He wrote novels based on socialist realism too. Amongst his novels, Ulaikalam (Furnace) and Vilainilam (Farmland), are notable works. He shaped writers D. Selvaraj, K. Chinnappa Bharathi, M. Kamuthurai, Melanmai Ponnuchamy, who followed in his footsteps, adopting socialist realist aesthetics in their works.
Death
K. Muthiah passed away on June 10, 2003 in Madurai.
Memoirs
K. Muthiah: Ezhuthulagil Arainootrandu (K. Muthiah: Half a Century in Writing) - A biography, N. Ramakrishnan.
K. Muthiah - Vazhvum Paniyum (K. Muthiah: Life and Work), Jananesan.
Literary Significance
K. Muthiah wrote in line with the official views of the Communist Party of India. His novels portrayed a life that suited the political agenda. It came to be known as socialist realism. His novels exemplify the socialist realist vision put forward by the Communist Party and serve to understand the party's position.
Works
Literary Reasearch
Tamil Ilakkiyangal Koorum Varga Samudayam
Silapathikaram Unmaiyum Purattum
Ramayanam Or Aaivu
Marxiamum Tamil Kalai Ilakkiyangalum
Political
Veera Parambarai
Sattamandrathil Naam
DMK Enge Selkirathu
Ithuthan Annaaisama?
Novel
Ulaikkalam
Vilainilam
Imayam
Translation
Thathuvathin Varumai (Karl Marx)
Plays
Sevvanam (Play)
Puthiya Thalaimurai (Play)
Aeroti Magan (Play), 2012
References
‎
---
✅Finalised Page