Indira Neelam (Venmurasu Novel Part 7)
From Tamil Wiki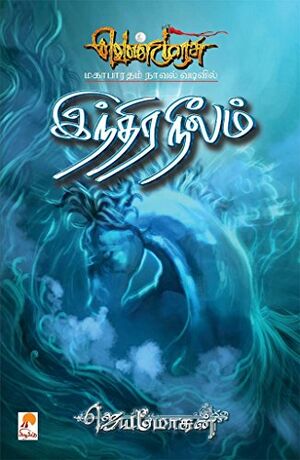 இந்தப் பக்கத்தை தமிழில் வாசிக்க: இந்திரநீலம் (வெண்முரசு நாவலின் ஏழாம் பகுதி) ‎

Indira Neelam (Venmurasu Novel Part 7) deviates from the main story of Mahabharat and elaborates the story of the eight queens who Krishna married. Although Krishna is the central character of all the Venmurasu novels, Neelam and Indira Neelam completely focus on Krishna. Neelam shows the magical side of Krishna while Indira Neelam shows the human side of Krishna.
Publication
E-Publication
'Indira Neelam', the seventh part of the novel 'Venmurasu', was published on author Jeyamohan's website one chapter a day from 1st June 2015 and was completed in August 2015. It is available to read for free on his website. It is also available in the e-book format as a paid version.
Print Publication
Kizhakku Pathippagam (Kizhakku Publications) has published Indira Neelam in print edition.
Author
'Venmurasu' novel was written by writer Jeyamohan. He redefined the Indian Tamil tradition according to the virtues of the modern era.
Synopsis
'Syamantaka Mani' is a gemstone which has the luminescence of the colour Indira Neelam (Violet Blue). The plot of the novel Indira Neelam revolves around this Syamantaka Mani. This novel tells the story of how the 'Syamantaka Mani' affects everyone's mind in different ways and makes them indulge in unethical ways. Themain focus of the novel is on who is able to overcome the effects of the Syamantaka Mani. The plot details the story of the young Yadava's (Krishna) marriage to his eight wives. This part tells the story of Krishna's marriage to the eight Lakshmis as eight myths and as a political move of Krishna by marrying women from eight clans and laying a strong political foundation for his nation.
This novel also shows how the 'Indraprastha' conceived in the mind of Draupadi takes shape. The stories of Indira Neelam are compiled into a novel through the stories of two warriors, Satyaki and Drishtadymnan. The novel gives a detailed depiction of their friendship.
Characters
The younger Yadav(Krishna), Drishtadymnan and Satyaki are the main protagonists and the eight wives of the younger Yadav along with Draupadi, Suprai and Subhadra are the secondary protagonists.
References
Links

‎
---
✅Finalised Page