Ilakkiyathukku Or Iyakkam
From Tamil Wiki
இந்தப் பக்கத்தை தமிழில் வாசிக்க: இலக்கியத்துக்கு ஓர் இயக்கம் ‎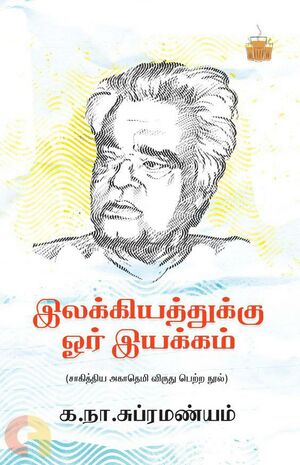 Ilakkiyathukku Or Iyakkam (a movement for literature) is an article collection written by Ka.Na. Subramaniam. It won Sahitya Academy award in 1986.
Writing, Publishing
Ka.Na. Subramaniam wrote articles of the book Ilakkiyathukku Or Iyakkam on his Independent Magazine Ilakkiyavattam from years 1963 - 1965. On the preface of the book Ka.Na. Subramaniam wrote "Twenty years later, the Tamil literary world cannot be too proud of the fact that there is probably no need to make any changes when trying to publish a book with these articles. I could be proud to say that the purpose for which I wrote these articles has been accomplished, only if I had to make major changes. There is no place for it".
Dedication
Ka.Na. Subramaniam had dedicated this book saying "I submit this book to the two hundred to three hundred good readers who are in Tamil today, and to the ten or twenty well-known literary authors who have kept the literary light afloat".
Synopsis
The first article of the book is named 'Ilakkiyathukku Oru Iyakkam'. On this book K.N. Subramaniam wrote articles on Classical Literature like Kambanin Kaaviya Kattukoppu' and on various authors like C. Subramania Bharathiar, T.K. Chimbara Muthaliar, S.V.V. Most of the articles are centered around the titles of Current Tamil Literature, World Literature, Need for Practice, What Literary Criticism means, Aim of Literary Criticism, Writer and the Reader, Quality of Magazines, Literature Tastes, On Improving Literature Quality, Practicing Literature, Reading is an Art, Experimenting, Short Stories in Tamil. In this book, K.N. Subramaniam argues that the development of modern literature requires the practice of good reading through continuous literary criticism, and that literature can only function actively within an inner circle of select readers.
Awards
Ilakkiyathukku Or Iyakkam book won the Sahitya Academy award on 1986.
References
‎
---
✅Finalised Page