Ayyam Perumal Konar
From Tamil Wiki
இந்தப் பக்கத்தை தமிழில் வாசிக்க: ஐயம்பெருமாள் கோனார் ‎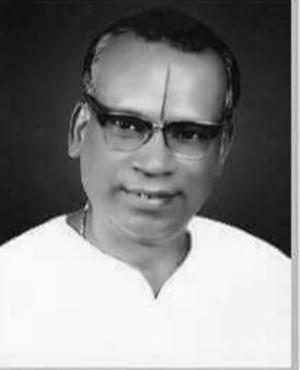 Ayyam Perumal Konar (1905-1989) was the author of the popular textbook guides in Tamil. He was a Tamil teacher at St. Joseph's School, Trichy.
Birth, Education
Ayyam Perumal Konar was born on September 5, 1905 in Tiruchirappalli to Thiruvengada Konar. He lost his mother at a young age and grew up under his aunt's care in Chinnakadai Street, Tiruchirapalli. He attended the Tiruchirapalli Aryan Primary School. After completing his schooling at the National High School, he passed the Pulavar examination conducted by the Fourth Tamil Sangam of Madurai in 1933.
Personal Life
In 1942, he became the Professor of Tamil at St. Joseph's College after Nadesa Mudaliar retired from the post. He worked there until his retirement in 1966. Arangarasan, the son of Ayyam Perumal Konar, publishes his textbook guides. Writer Sujatha considers himself a student of Ayyam Perumal Konar.
Textbook Guides
Ayyam Perumal Konar wrote simple guides in Tamil for his students in college. The guided notes, which were popular among his students, were published by Palaniappa Brothers, a publishing house run by S.M. Palaniappa Chettiar. The guides were sold at a low price and gained popularity among students. Later, guides were published for non-Tamil subjects as well. Eventually, the term Konar Notes became synonymous with simplified guides.
Literary work
Ayyam Perumal Konar gave lectures on Vaishnava literature and Kambaramayanam. He was famous for his lectures on the Trichy radio.
Death
Ayyam Perumal Konar passed away in 1989.
Awards
Kanchi Chandrasekara Saraswathi conferred the degree of Thiruppavai Aaraichi Mani for his discourses on Thiruppavai.
Books
Konar Tamizh Kaiyagarathi
Thirukkuralukku Konar Ponnurai
Sangakala Pandiyar
Vasan Painthamizh Solai
References
‎
---
✅Finalised Page