A. Muthuthambi Pillai
From Tamil Wiki
இந்தப் பக்கத்தை தமிழில் வாசிக்க: ஆ.முத்துத்தம்பிப் பிள்ளை ‎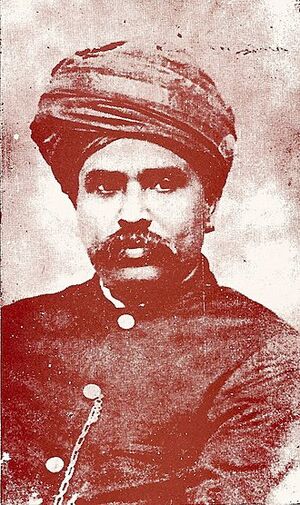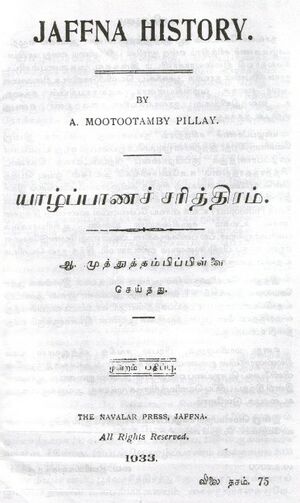 A. Muthuthambi Pillai (April 18, 1858 - November 2, 1917) was a Sri Lankan Tamil scholar. He was aprofessor History of Literature and a sitrilakiya writer. He was the author of the first Tamil classical Dictionary called Abithaana Kosam.
Birth, Education
A. Muthuthambi Pillai was born on April 18, 1858, in Manipay, in the Jaffna peninsula. He was the eldest son ofArumugam Pillai and Seedevi Pillai. His primary education was taught by a teacher named P.S. Page, at the teacher's house. This later became the Manipay Memorial English School. Muthuthambi Pillai later joined Wesleyan Central School, founded by Priests Percival, which is now known as Jaffna Central College. He learnt English from Muthukamarar Chidambaram Pillai, who was the headmaster of that school. He learnt Tamil from Sunnakam Murugesa Pandithar, also popularly known as Illakana Kottar, who has composed songs such as Kudandhai Venba.
Personal Life
In 1876, at the age of eighteen, A. Muthuthambi Pillai went to Nawalapitiya and worked as a teacher for a Ceylon Company Estates officer. In 1880, he went to India, worked as a private teacher in the house of Thiruthuraipoondi Alagiyanathan Chettiar, and taught his children. Later, A. Muthuthambi Pillai worked as the chief clerk and accountant for Anderson & Co, in Nagapattinam. A. Muthuthambi Pillai became the editor-in-chief of Satyabhimani, a weekly magazine, run by Thavasimuthu Nadar, who lived in Purayaru, Karaikal. The Nadar community donated a sum of money to him when he quit from Satyabhimani, with which, in 1885,he set up a printing press called Jubilee Press, in Chennai.
In the year 1893, he returned to Jaffna, bought a house in Vannarpannai, where Arumugam Navalar lived, he named the house Navalar Kottam. He set up a bookstore and a printing press, called Navalar Press, next to it. Hence, he was called Navalar Kottam Muthuthambi Pillai. A. Muthuthambi Pillai also founded a store called Ward & Davy, which sold medicine and grocery. He published a monthly magazine called Vaithiya Visarani[1] for three years.
At the age of 25, he married Thangamma, the eldest daughter of Kandhappar from Sandilipay.
Magazines
Satyabhimani (1884), weekly magazine (Tamil Nadu)
Vaithiya Visarani (1897), monthly magazine (Eelam)
Literary Work
In 1898, a Tamil Sangam was established by the son-in-law of Arumugam Navalar and T. Kailasapillai, who had utmost involvement in the son-in-law's work. A. Muthuthambi Pillai, was also involved. After the formation of the Madurai Fourth Tamil Conference, by the advancements of Pandithurai Thevar, he worked as an examiner for the examinations conducted by the Sangam. A. Muthuthambi Pillai also wrote articles for their Senthamizh magazine. The articles written by A. Muthuthambi Pillai for this magazine, are an acclaimed forerunner in the Tamil language. It's a clear representation of his ideologies and perspectives through quizzes.[2]
Among the literature and history of literature novels written by A. Muthuthambi Pillai, Abithana Kosam, a Tamil classical Dictionary and Encyclopedia . It is considered to be the first dictionary in the Tamil language. Sixteen years of work went into finishing the book. Abithaana Kosam was printed and published in 1902; at the Jaffna Navalar Press.
Death
On November 2, 1917, A. Muthuthambi Pillai passed away.
Literary Significance
Primarily, A.Muthuthambi Pillai is considered to be a pioneer in Tamil dictionaries. Abithana Kosam is an eminent work. He is also regarded as a researcher who has paved the path by making the first attempt to understand Tamil grammar.
Books
Illangai Sarithra Soosanam
Illangai Sarithra Soosanam (1883)
Kalidasa Sarithram (1884)
Prabodha Chandhrodhaya Vasanam (1889)
Vivekanandha Swamigal Sorpolivugalin Saaram (1897)
Abithana Kosam (1902)
Bharatha Surukkam (1903)
Nanool Ilakkupodham- Ezhuthadhigaram (1904)
Nanool Ilakkupodham- Soladhigaram (1905)
Angila-Angila-Tamil Agaradhi (1907)
Civilian Tamil Grammar (1912)
Nanool Udharana Vilakam (1912)
Yazhpana Sarithiram
Ilangai Bhoomisathiram (1914)
Saiva Palabhodham (1916)
Thenmozhi Varalaru (1920)
Eelamandala Pulavae Sarithram
Kalamega Pulavar Sarithram
Arpudhayogi Sarithram
Chandrakasam Kadhai
Shreemathi Annie Besant Samaya Varalaru
Thiruvasagam (Edition)
Nikandu 1-5 Thogudhi (Edition)
Pudhiya Ilakkubodha Pillaipadam (Textbook)
Pudhiya Ilakkubhodha Palapadam, 1-8 std (Textbook)
Pudhiya Ilakkubodha Ilakanam, 4-5 std (Textbook)
Thamilkoppi Sattaveluthu 1-4
Sentamizh Agaradhi (not published)
References
Notes
‎
---
✅Finalised Page